WPC—it goes by several different names depending on to whom you are speaking. Some say it translates as "wood plastic/polymer composite," while others believe it stands for "waterproof core." Either way you define it, many would agree this relatively new category represents a game-changing product that has generated excitement and, more importantly, additional sales opportunities for retailers and distributors.
As the WPC category gains steam, however, specialty dealers are faced with a few challenges, from explaining to customers the features and benefits of the new segment to effectively merchandising this classification of product. For those just getting into the category, or for those looking to learn more, here are some basic questions about WPC—along with some advice on how to answer them.

1.What is WPC flooring exactly?
WPC is a composite material made of thermoplastics, calcium carbonate and wood flour. Extruded as a core material, it is marketed as being waterproof, rigid and dimensionally stable. In an effort to differentiate their products, suppliers are branding their WPC offerings with names such as enhanced vinyl plank, engineered luxury vinyl flooring and waterproof vinyl, to name a few. Shaw Floors, for example, brands its Floorté as enhanced vinyl plank with an "improved formulation" that gives it greater density than WPC. Mannington's new Adura Max is an enhanced vinyl plank the company is touting as the "quietest product on the market."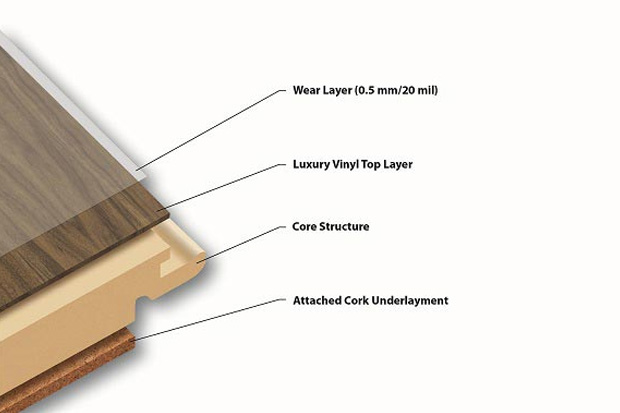 2.How does WPC flooring differ from LVT flooring?
The main differences are that WPC is waterproof and can go over most subfloors without much preparation. Traditional vinyl floors are flexible, meaning any unevenness in the subfloor will likely transfer through the surface. Compared to traditional glue-down LVT or solid locking LVT, WPC products have a distinct advantage because the rigid core hides subfloor imperfections. In addition, the rigid core allows for longer, wider formats. With WPC, it is not necessary to worry
about the preparation LVT would require for use over cracks and divots in concrete or wooden subfloors.

3.How does WPC flooring stack up against laminate flooring?
WPC is waterproof, while some laminates are engineered to be water"resistant." Big difference. Proponents of WPC say it is more suitable for environments in which laminate shouldn't normally be used—typically bathrooms and basements that have potential moisture infiltration.
In addition, WPC products can be installed in large rooms without an expansion gap every 30 feet—a long-established requirement for laminate floors. Also, the vinyl wear layer of WPC provides cushion and comfort while absorbing impact. This makes a more quiet floor compared to laminates'telltale "clickety-clack" sound. Lastly, WPC is also suitable for large open areas
(basements and Main Street commercial areas) because it doesn't require expansion strips.
"Any time you have a product that solves a problem it seems to do well," said Jeff Striegel, president of Elias Wilf, a top 20 distributor based in Owings Mills,Md. "One of the issues people
have with LVT is there is some telegraphing and, therefore, are limitations with what you can put LVT over. That is not the case with WPC. It is clearly a trend that is on the move."

4.Where is the best place to merchandise WPC flooring in the retail showroom?
Most manufacturers regard WPC as a subcategory of LVT. As such, it is likely to be displayed among other resilient and/or LVT products. Some retailers have WPC displayed between laminate and LVT or vinyl since it is the ultimate "crossover" category.

5.WPC flooring—A passing fad or category with long-term potential?
If retailer response is any indication, WPC is here to stay. This is based not only on the sales and profits the category is generating for floor covering dealers but also the high levels of investment that suppliers and manufacturers are putting into design innovatiion and new product development.
"WPC can absolutely become the dominant player," said Eric Mondragon, hard surface buyer for R.C. Willey Home Furnishings, with 13 locations in four Western states. "WPC is what the LVT category has evolved to, although I still see the need for traditional dryback LVT for multi-family and commercial segments of the market." USFloors helped usher in the WPC era with the launch of COREtec at Surfaces four years ago. (In 2015, the company received a patent that covers all engineered flooring products with a WPC core and veneer top layer with or without an attached backing.) Piet Dossche, CEO of USFloors, predicted WPC "will forever change the landscape of LVT and several other flooring categories."