Years of growth accomplish the distinctive beauty of natural wood. People are enchanted by its natural colors, beautiful marks and grains. With more concentration on healthy and the desire to be with nature, there are increasing discussions about the flooring which can truly indulge people in the world of authentic wood beauty. Speaking of genuine wood beauty, engineered hardwood flooring comes to people's minds. It undoubtedly increases the value of any space. DECNO paves its way among the cutthroat market competition of the "me-too" products by an innovative product—Hardwood SPC flooring, also known as Wood Veneer SPC/WSPCflooring/. It has been a big hit with customers since it was launched because it is the perfect balance of real wood beauty and superior performance. Many people have been asking about the differences between these two products. It could be tricky to decide which one is the best fit for your home and the best for your flooring business, we hope what we're gonna talk about can give you some hints.
What is Engineered Hardwood Flooring & Hardwood SPC Flooring-WSPC?
Engineered hardwood flooring is constructed in a top layer of solid hardwood bonded to multiple layers of timber with adhesives. The plywood underneath the real hardwood veneer is referred to as the core board, which is made by stacking the piles on top of one another in different directions.
As a hybrid of hardwood and SPC, the basic structure of DECNO Hardwood SPC Flooring from top to bottom is Multiple UV coating, wood veneer, SPC rigid core(100% virgin material), and underlay. Note: It can be slightly different according to customers' requirements. It would be understandable why people regard hardwood SPC flooring as a kind of engineered hardwood flooring—the biggest difference lies in the core.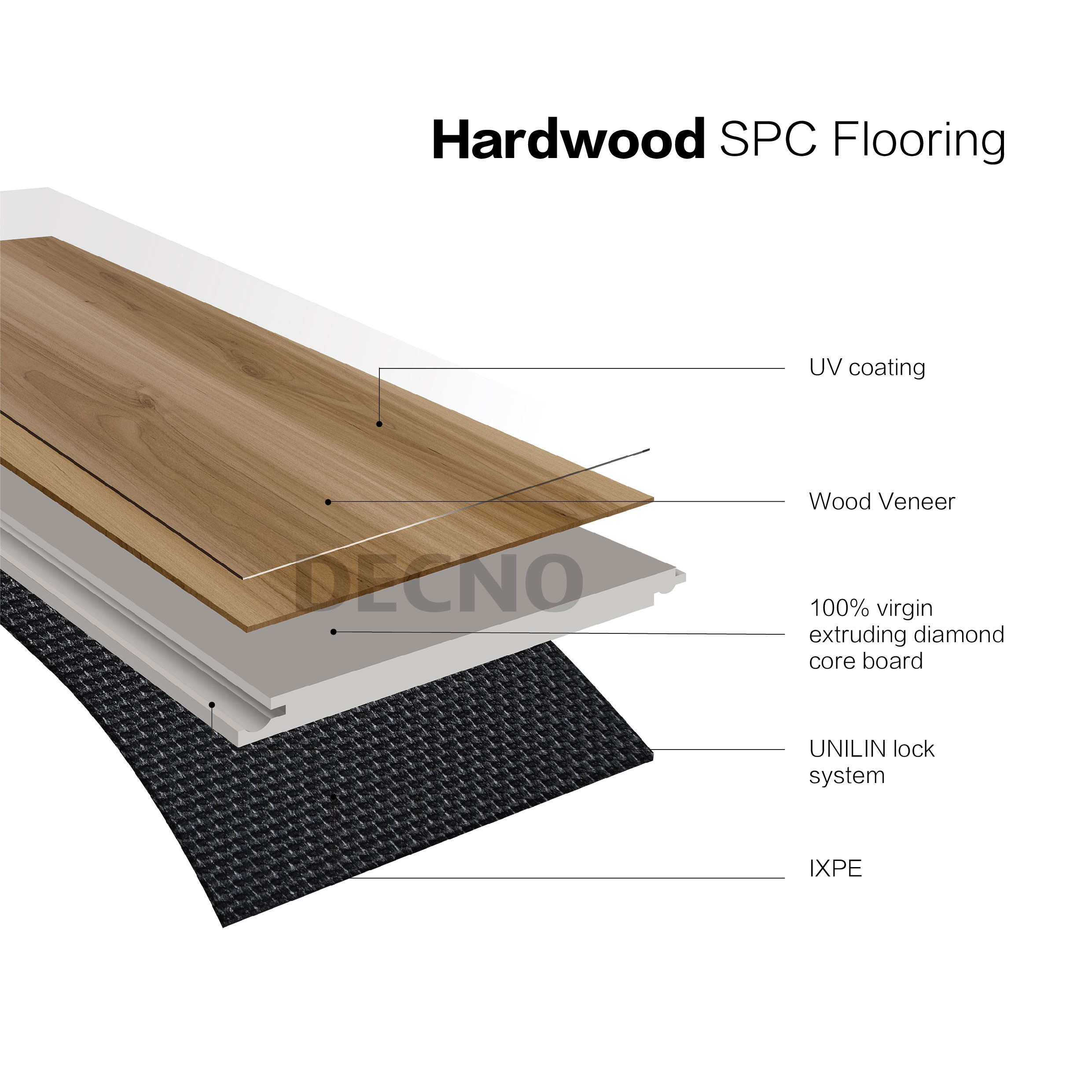 Water Resistance
Because of its structure, engineered hardwood flooring can swell or warp if you expose it to water, which is really annoying when you only want to enjoy the beauty. This leads you to your current dilemma: you desire its natural beauty, but need to stand its vulnerability.
Served as a solution to customers' pain points, DECNO Hardwood SPC Flooring is water-resistant. You do not need to worry about the spills and moisture, which increases its practical applicability and makes it possible to fully indulge yourself in the natural world.
Healthy & Green
Because of the way that engineered hardwood flooring is constructed, the glue used during the production process contains many toxic chemicals, one of the health-concerned substances is formaldehyde. It can be found in plywood, glues, adhesives, etc, and put your health at great risk.
DECNO Hardwood SPC Flooring is completely safe to use. The glue we apply is totally environmentally friendly and our product is certified by FloorScore, which means it is formaldehyde-free and worry-free to be used indoors. Embrace nature, and breathe freely.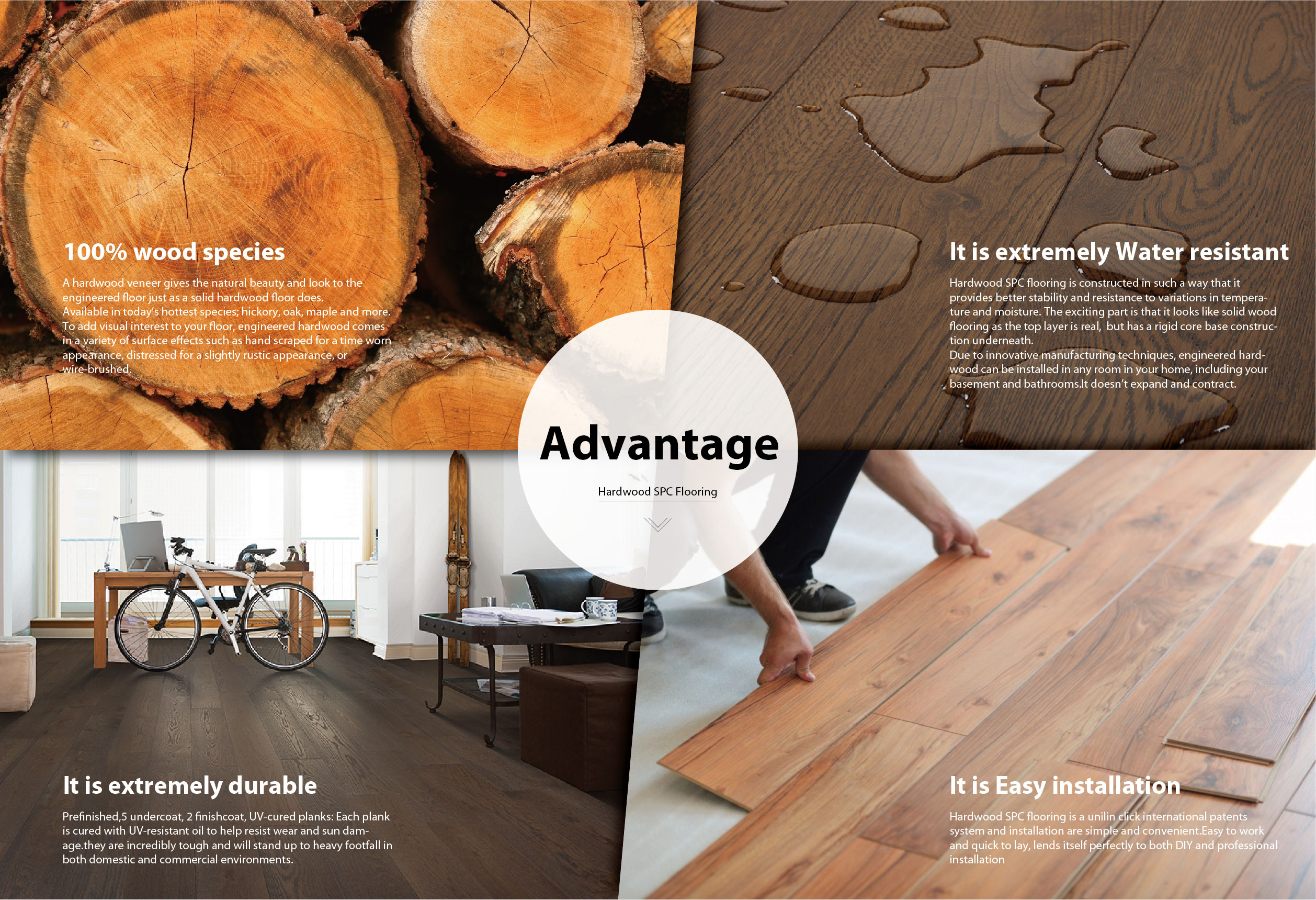 Unparalleled Visual Interest
When it comes to engineered hardwood flooring, people would think of its genuine wood beauty and are craving for the value it could add to any space.
Undoubtedly, DECNO WSPC flooring can offer you the same luxurious design and authentic wood beauty as engineered wood flooring. With our constant concentration on innovation, technological breakthrough and years of production and exporting experience, DECNO combines the wood veneer with SPC rigid core to bring the real wood beauty and ground-breaking transformation into home. Various wood species, unique knots and textures will sure to grab people's attention and add a statement to your interior.
"Core" Competency
Engineered hardwood flooring is popular due to its extensive lifespan. And this is the same for DECNO Hardwood SPC Flooring. The robust rigid core made of 100% virgin material makes it outstanding from traditional hardwood flooring. It means more durability and more resiliency, which is one of the benefits of marrying wood with a rigid SPC core.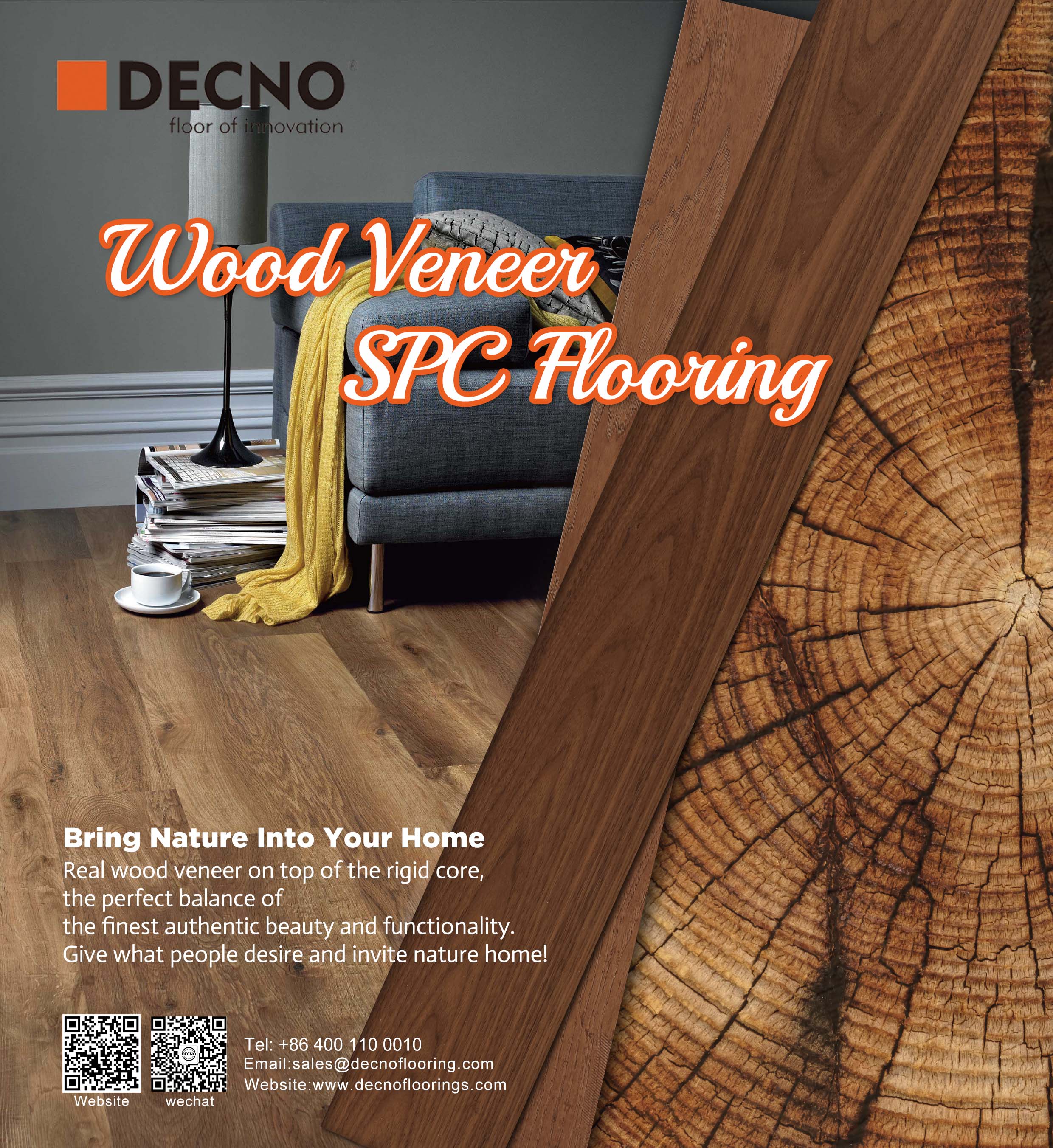 As a revolutionary engineered hardwood flooring, DECNO Hardwood SPC Flooring has the very reason to be the spotlight on the market and the ongoing trend in the flooring industry. Its popularity is very clear: it perfectly satisfies people's demand for both natural, gorgeous wood charms and excellent performance of the rigid core. As the constant market changes and the increasing demands for both the natural appearance and excellent performance, customers are becoming wiser and require advanced and more practical attributes related to performance and cost. DECNO WSPC flooring can definitely help you stand out from the market and let your customers experience the real beauty in real life.