Industry observers will not be surprised to hear that the resilient category had another spectacular year of growth in both sales and volume. FCNews research shows the category generated $4.916 billion in sales (not including rubber) in 2018—an industry-leading 23.1% increase over 2017's $3.993 billion. In terms of volume, the category accounted for 4.373 billion square feet (not including rubber) at the first point of sales, an 8.67% increase from 2017's 4.024 billion square feet. This positive momentum, executives say, is directly attributed to the performance of subcategories such as WPC flooring and SPC rigid core flooring.
The resilient category's strong performance in 2018 is even clearer when measured against other hard surfaces. When compared to the likes of tile, wood and laminate, resilient accounted for 42.4% of sales. When taking total flooring sales into account, resilient comprised 21.4% of revenue and 22.3% of volume.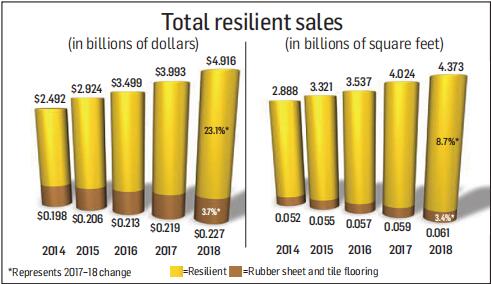 The category's skyrocketing growth really comes into perspective when you consider the fact the segment's percentage increase in revenue is over five times the growth of the entire industry, while volume is almost four times that of the flooring sector as a whole.
Resilient's continued doubledigit growth in sales in 2018 is made that much more significant when looking at its performance over the past few years. FCNews research shows 2018's sales represent a 40.5% increase over 2016's $3.499 billion and a 68.13% increase compared to 2015. To put this growth into perspective, total resilient sales increased 123% from 2013's $2.206 billion and 130.3% from 2008. Meanwhile, total resilient volume increased 68.8% from 2013's 2.59 billion square feet and 49.76% over 2008.
Industry executives cite a multitude of factors that contributed to the resilient category's meteoric rise.One of which is the fact that the category possesses a wide range of products to fulfill a range of retailer and consumer needs. As Michael Raskin, CEO, Raskin Industries, explained, resilient products across the board provide the consumer with value. "Today's customer wants performance and design. The visuals in this category have vastly improved. All of these attributes—waterproof, durability, ease of installation and maintenance—provide an unsurpassed value. Also, it is more difficult to find skilled labor, which impacts products like ceramic and wood. Retailers ultimately push products they can install with confidence in a timely manner."


Other executives agree, citing the features and benefits the category provides. "Resilient flooring provides tremendous value to consumers through advancements in visuals that are better than natural wood and tile looks, superior performance and ease of installation," said Ed Sanchez,vice president product management, Mohawk Industries—parent of the Pergo Extreme brand. "Consumers want value but don't want to compromise on features. With resilient, they don't have to."
Other manufacturers see the category's red-hot LVT segment as a major factor in resilient flooring's performance. "The resilient flooring market is being fueled by LVT's continued growth," said John Szilagyi, manager market intelligence, Tarkett North America. "The category has captured some of the best features of design, performance and price. It has also been a hotbed of innovation. While other product categories have LVT, WPC, SPC flooring bulldoze the competition remained somewhat stagnant, LVT has benefitted from digital printing. LVT has also seen advancement in material innovation—especially WPC and SPC vinyl flooring— and diverse production."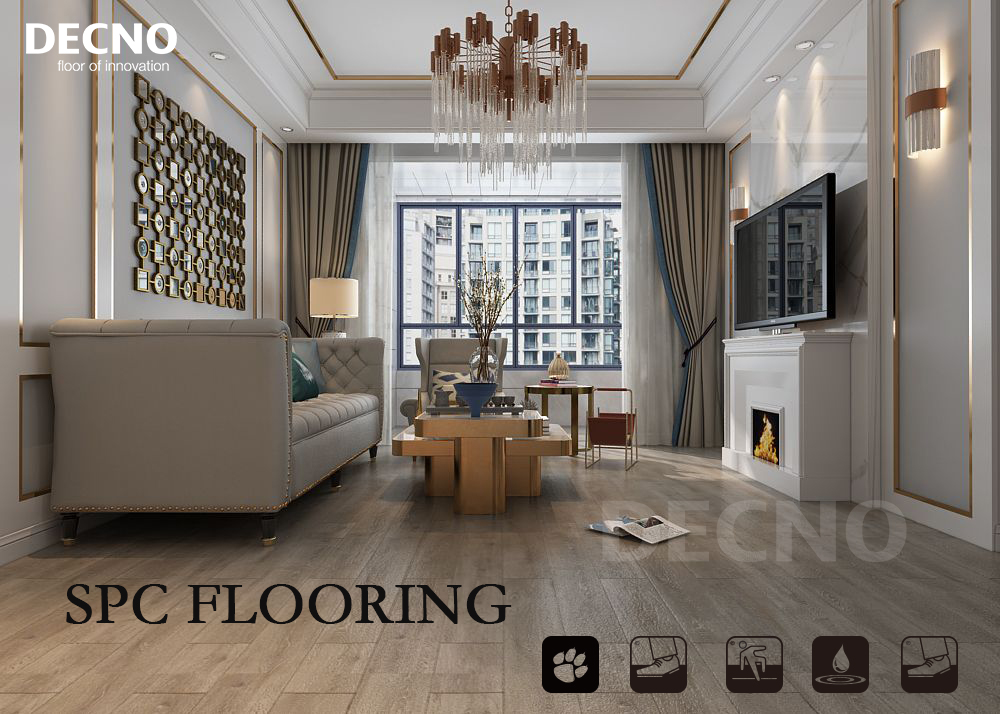 Most executives agree LVT's sister subsegments, WPC and SPC rigid core flooring, have brought the category to new heights. "The consumer has embraced the SPC vinyl plank category as a high-value flooring choice," said Art Layton, director of specialty products, Axiscor."The performance is proven in high-traffic and high-moisture applications, and it is an extremely easy product to clean and maintain. Retailers love selling the product for several reasons, including ease of transport to and from jobs, faster installations and very few callbacks."
It also helps that LVT, WPC and Luxury SPC flooring are all products that provide retailers with a compelling story to sell, executives say."They can sell the end user on its practicality, the fact that it is waterproof, scratch resistant and so on," said Chris Dillon, vice president of sales and marketing, Celeste. "Every year it seems the looks get better and more realistic. A few years ago, you could easily see the difference between real wood and resilient; now it's more difficult."