Even seasoned flooring executives are stunned at the growth of the rigid core subsegment that burst onto the scene less than two years ago and has morphed into a super cell of flooring. SPC flooring opens it up to mud rooms and bathrooms.
When Jimmy Tuley, vice president, residential resilient business, Mannington, visited Domotex Asia back in the spring, he saw literally scores of new entries. "We saw combinations of wood on rigid core; somewithmineral core to give it different properties. There is a lot of innovation happening. The pace of change right now is just amazing— unbelievable, really."
Jeff Francis, hard surfaces resilient category manager, Shaw Industries, agreed, adding:"The rate of change in resilient rigid core is so significant it is challenging just to stay ahead of the pace. Based on the velocity of growth,I don't see it receding at all."
Francis sees rigid core continuing to take market share from soft surface as well as hard surface—laminate, wood and even glue-down LVT. "We see growth accelerating, and in the next 12-24 months, even as fast as the innovation is coming, we see more of it."
David Sheehan,senior vice president, product management, Mohawk resilient,said he has been astounded by the growth of rigid vinyl."It is definitely a product that has become the darling of the industry. Just as LVT in general was the go-to product for RSAs and dealers,rigid has become that go-to product."
The latest iteration of rigid core flooring— solid polymer core, or SPC vinyl flooring—is made of a composite core construction. Viewed by many as a step up from solid LVT, SPC rigid core flooring products feature a higher filler content and higher density without any foaming agent creating air bubblesin the core. The result is a thinner but harder and stiffer plank. These products are primarily suitable where higher indentation resistance is required and extensive exposure to sunlight/heat can occur.
This broad definition does not stop flooring companies from putting their own marketing spin on their iterations. For instance, FirmFit XXL from CFL boasts long and wide planks featuring synchronized embossed-in-register technology. The product is dent resistant and sun proof, and is backed by warranties on performance on massive installation surfaces without use of transition moldings.
Enhanced realism is also one of the hallmarks of Earth Werks' new Noble Classic Plus SPC line, which boasts an array of high-dimension oak patterns featuring embossed-in-register technology. The lines comes in 8 x 48 planks as well as 9.5 x 60 tile for an even more dramatic appearance—each with cushion backing.
Another illustration of the evolution in rigid core construction is IVC's Urbane,which will be part of IVC's rebranded Waterproof Solutions display (the program replaces Moduleo). Urbane is a rigid offering that IVC expects will drive a lot of traffic and enthusiasm. Glass is used to make the product more dimensionally stable. All three products are suitable for three-season rooms capable of handling extreme temperatures.
According to IVC, the aim is to communicate the inherent waterproof nature of the offerings with the three-product display that also includes Horizon and Embellish. Described as a classic flexible offering, Horizon is a 20-mil, 4.5mm construction available in click and glue-down options. The trade up is Embellish, a flexible LVT that Sheehan called a very significant offering."We're not labeling the products,we're creating a good, better, best trade-up story," he explained.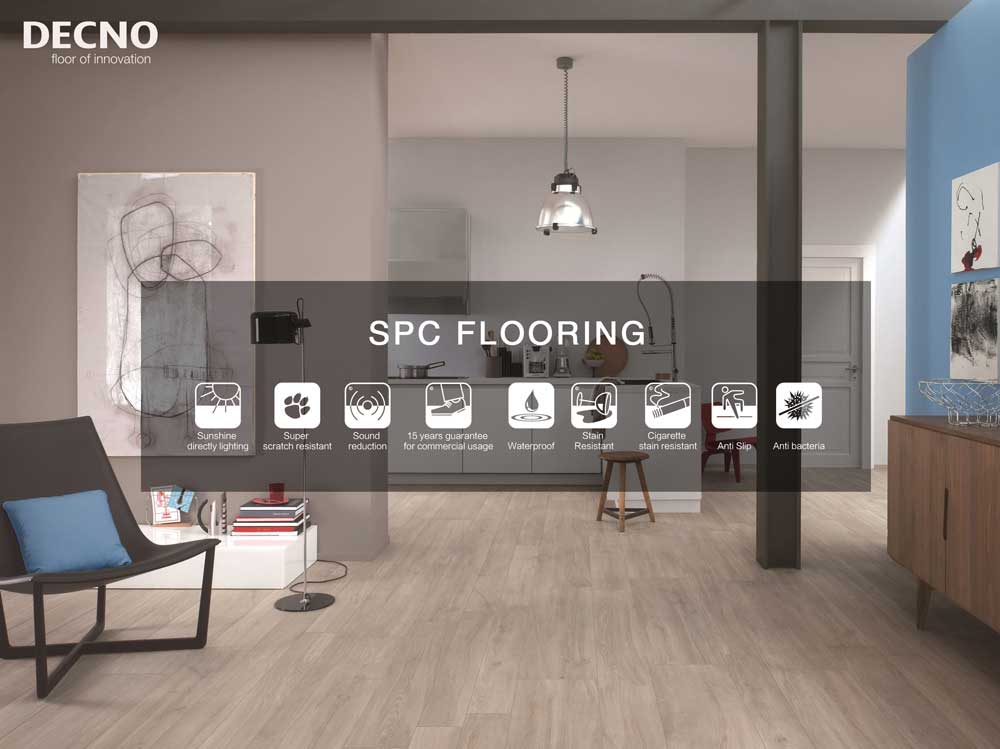 As the category evolves, some foresee the WPC and SPC segments"splitting" as new technologies emerge to create separation. Case in pointis Mannington's AduraMax Prime, an SPC click flooring product targeted at the builder/multifamily segment. AduraMax Apex offers a long and wide plank and is embossed with a painted bevel. Mannington also plans to launch Adura Rigid, an SPC flooring with pad attached. "For the most part, these products are variations or improvements on LVT to solve very particular problems," Tuley explained.
Innovations in rigid core technology are also emerging from the Mohawk camp. Starting with Solid Tech, its flagship line with less than one full year in the market, Mohawk is readying a slew of new rigid offerings from its U.S. production facility that will be a fully integrated rigid core plant. "Customers are getting in line for this," Sheehan said. "Mohawk has invested a huge amount of capital toward this category. We feel we have the right products and are positioned well in each of our channels."