Trendy products like SPC Flooring are seizing market share from competing hard surface categories.
And laminate flooring is still consumers' consideration in terms of durability and scratch resistance. Many people find it difficult to differentiate them, actually there are a lot of differences between these two types of flooring.
1. Structure
From a broader perspective, SPC flooring actually belongs to the vinyl flooring family, whereas the laminate flooring is a kind of hybrid wood flooring, which results in the fundamental difference in their structure and in its performance.
DECNO SPC flooring consists of UV coating + wear layer+HD decor film + rigid core+ underlay:
The core material used for DECNO SPC flooring is 100% virgin material. It is made from polyvinyl chloride and calcium powder which is an environment-friendly and non-toxic renewable material. No heave metal contained such as benzene, lead or cadmium, etc, and no toxic substances during the entire manufacturing process.
Laminate flooring is made of aluminum oxide coating + decor film + HDF/MDF board + balancing layer:
Fiberboard is normally used to be the core board for laminate flooring, which is a type of engineered wood product made out of wood fibers. It can be medium density fiberboard or high-density fiberboard.
2. Eco-friendly
DECNO SPC flooring is made of 100% virgin material which also guarantees it is formaldehyde-free certified by SGS and FloorScore. You can install it in your home,or commercial facilities that are especially concerned about health such as the nursing home, schools, etc.
But for laminate flooring, which is made of the fiberboard, it may have slight formaldehyde-releasing issue(E0≤0.5mg/L, E1≤1.5mg/L). With more and more concerns about well-being, this may be a big drawback for laminate flooring.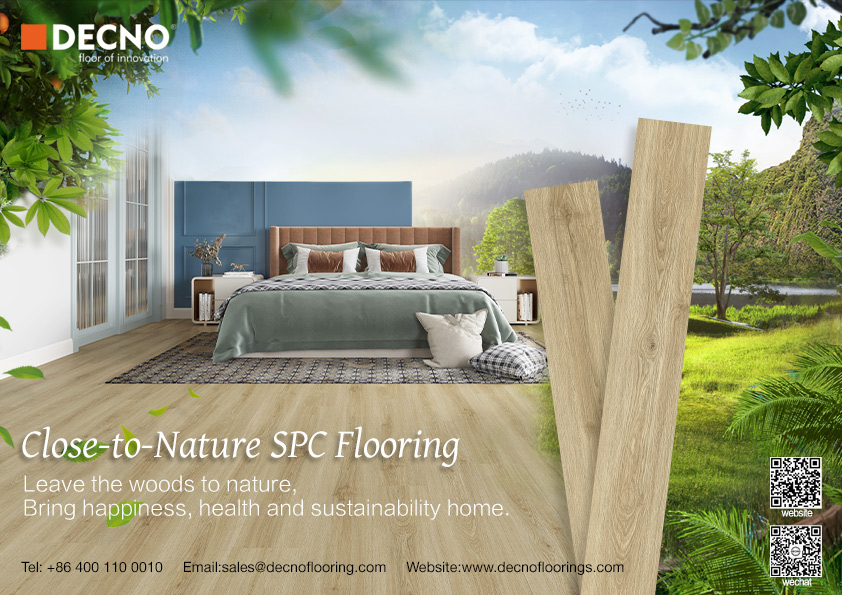 3. Waterproof & Application
DECNO SPC flooring with exclusive "5S" U-Guard coating and underlay technique ensure its 100% waterproof and moisture-resistance performance from top to bottom. You can install it in wet areas like bathrooms, laundry areas, kitchens, or for commercial uses such as malls, offices, nursing houses, schools, etc. No warping, buckling or deformation occurred on DECNO SPC flooring even soaked in water for 48 hours.
However, laminate flooring will swell or curl up when it comes into contact with water, no to mention soaked in water.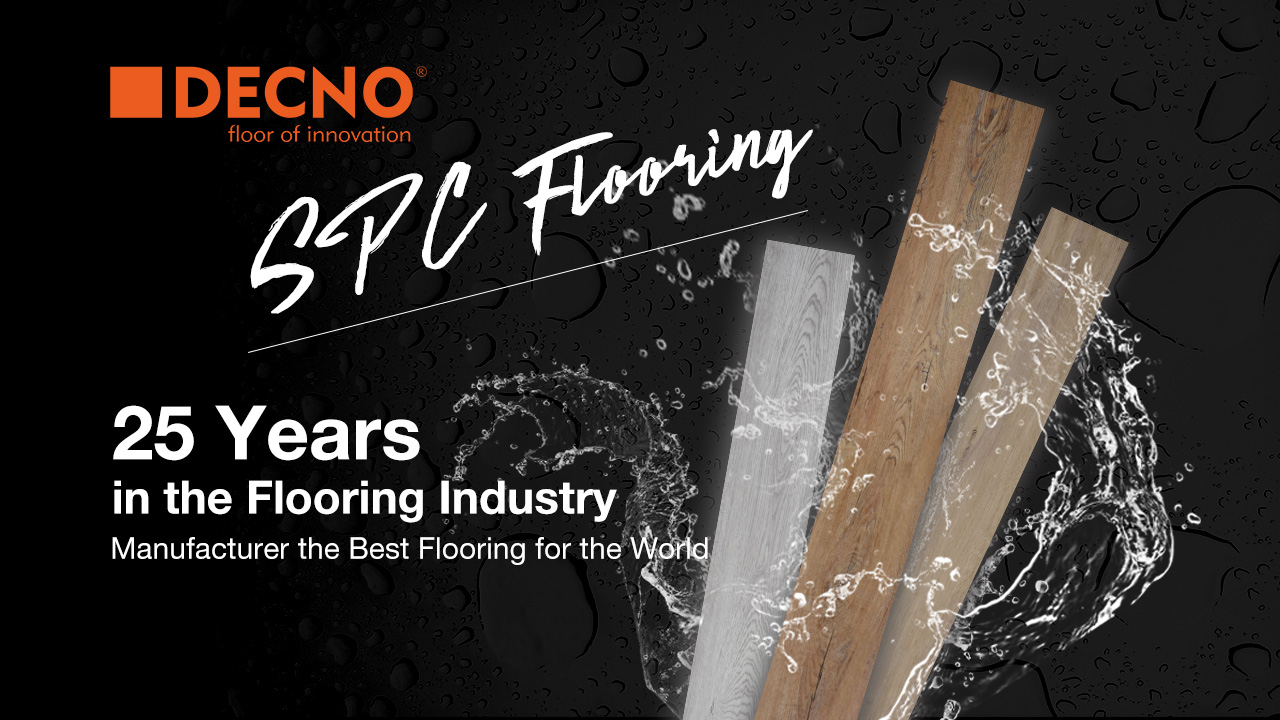 4. Dimensional Stability

Because of the material and production, DECNO SPC flooring is much more dimensionally stable than laminate flooring. After several-time acclimation which will cool down the extruded SPC rigid core to normal temperature, DECNO SPC flooring has better dimensional stability and longer lifespan than any other flooring. No afraid of severe temperature or humidity changes.
Otherwise, laminate will swell and expand due to heat and contraction caused by heat or cold.
5. Stain-resistance & Maintenance
Maintenance is always a big part of daily life, you may need to spend much more time and money to keep the flooring in good condition.
DECNO SPC flooring with the unique coating is extremely waterproof, stain resistance and scratch resistance. You can just sweep and mop the flooring to make it clean. It will stay excellent without additional waxing. Spare your time enjoying your happy life.
As for laminate flooring, there are a few precautions to take in case you damage the flooring. Because it is not waterproof, you should avoid wet while cleaning. And it will leave stains when you spill. It would be better to use the products designed for laminate flooring.
6. Sound Absorption
The rigid core and IXPE underlay attached to DECNO SPC flooring will help to reduce noise levels and make walking sounds less noisy. Make your space heaven to rest and leisure.
But it is not the same case for laminate flooring. Because it is not made of sound-proof material, it will generate a higher level of noise in comparison with SPC flooring.
7. Others
The average cost of SPC flooring s less than laminate flooring, which adds much more favorable attributes. DECNO SPC flooring is your first choice when you want to have a waterproof solution for your space;
The flame retardant classification is Bfl-s1, no toxic gas released;
Safety everywhere: anti-slip (classification R10), no more falling accident.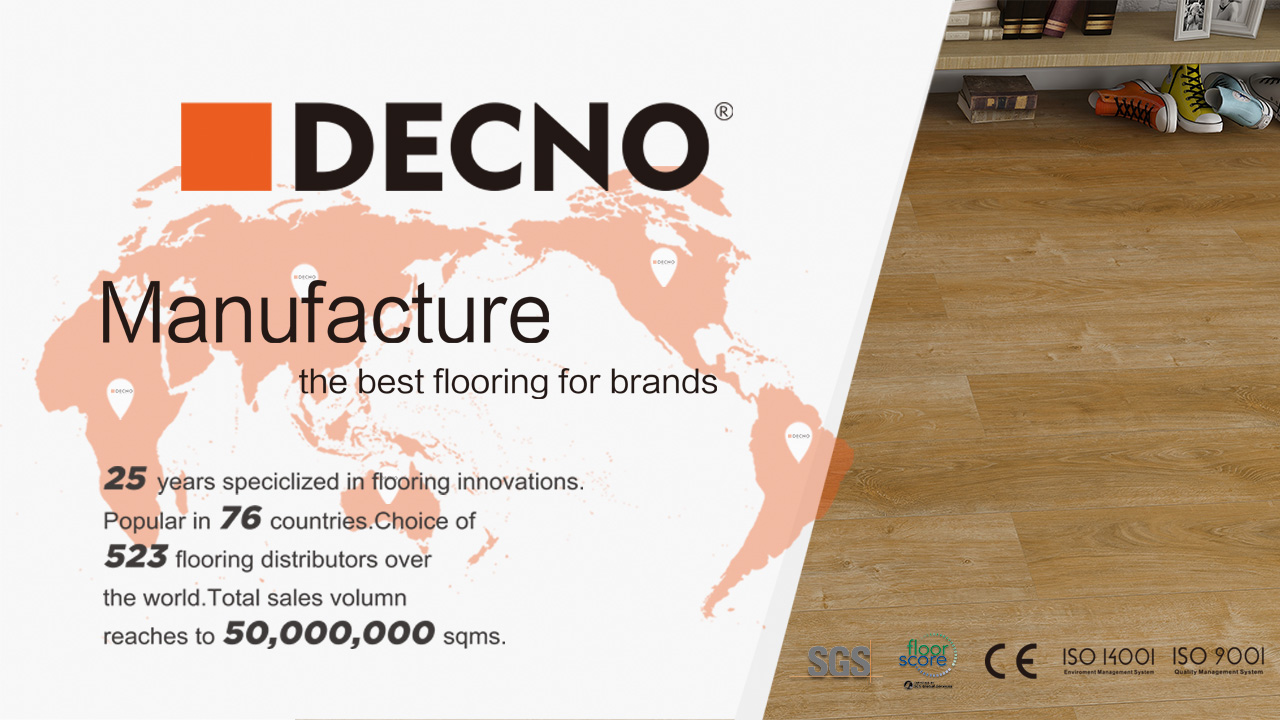 As you can see, SPC flooring featuring exceptional performance in all terms is definitely the best choice for residential and commercial applications. No matter what your lifestyle is, or what type of home design you desire, you can always find the perfect solution with DECNO SPC flooring.