For several years running, the resilient category has led the way for the flooring industry in terms of growth. It will come as no surprise then that while several key categories—including carpet and hardwood—registered declines in 2019, the resilient category continued to dominate.
FCNews research shows the category generated $5.433 billion in sales (not including rubber) in 2019—an industry-leading 10.5% increase over 2018's $4.916 billion. In terms of volume, the category accounted for 4.564 billion square feet (not including rubber) at the first point of sale, a 6.5% increase from 4.284 billion square feet in 2018.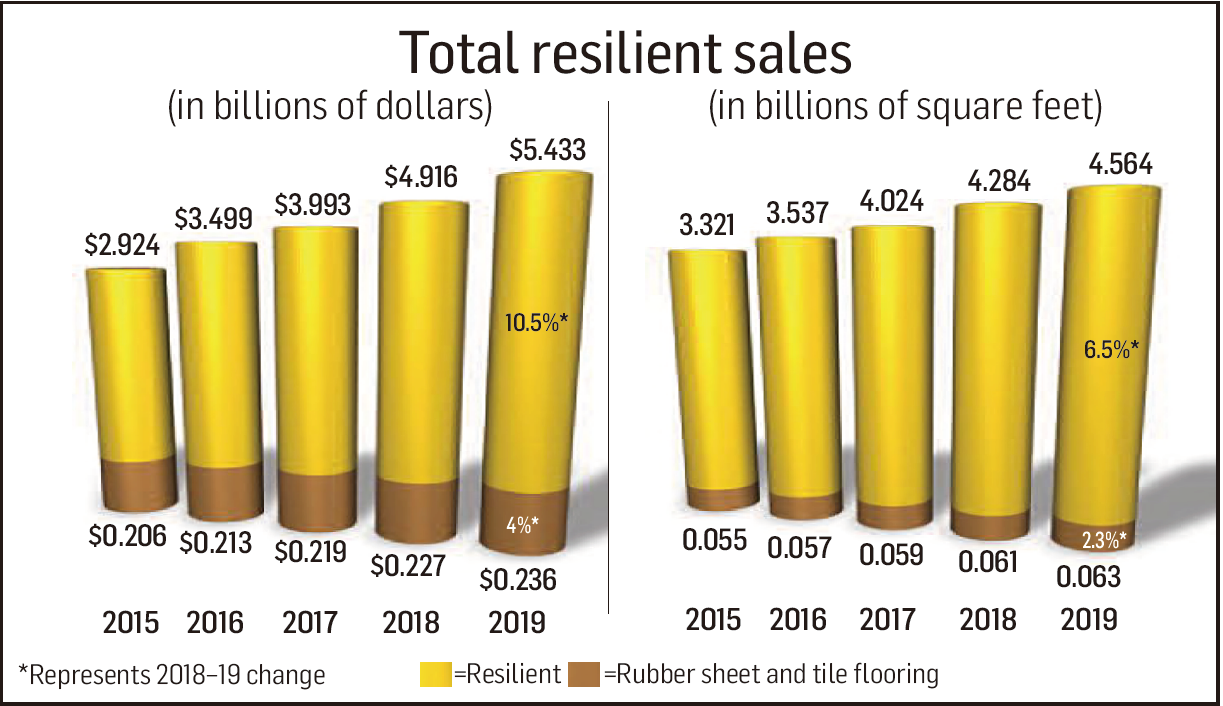 The resilient category's strong performance in 2019 is even clearer when measured against the hard surface market. When compared to ceramic tile, hardwood, laminate and other hard surface materials, resilient accounted for 45.1% of sales vs. 2018's 42.4%. When taking total flooring sales into account, resilient comprised 24.6% of dollars and 24.2% of volume.
When compared against previous years, the category's meteoric rise is even more evident. For example, in 2018 resilient accounted for 21.4% of revenue and 22.3% of volume; in 2017 the category represented 18.2% of market share dollars and 20% of volume; and, in 2014, only six years ago, resilient accounted for just 12.2% of dollars and 15.1% of volume. Over these last six years, resilient's share of the market has doubled in terms of dollars and increased about 50% with respect to square footage.
This positive momentum, executives say, is directly attributed to the performance of subcategories such as SPC/rigid core as well as the growing acceptance of vinyl products within the home.
"Three to four years ago the question was: 'What is this product? I know hardwood and tile, but what is resilient?'" said Jeff Francis, resilient category director, residential division, Shaw Industries. "Each year, through education, consumers are getting more comfortable with the product. Market acceptance of COREtec was a huge driver of that."
Karndean Designflooring's Jenne Ross, director of marketing, agreed, noting subcategories such as LVT specifically. "More and more homeowners have become aware of the benefits of resilient flooring over otherflooring options, particularly LVT, because of its performance benefits," she explained. "Consumers are learning more about LVT through third-party testimonials from bloggers and social media, word-of-mouth referrals from friends or family and even through television advertising by big box stores."
The category's benefits include ease of installation, maintenance, more realistic and diverse visual and textural designs—all of which have contributed to category's continued growth over the past few years, Adrienne Roseman, senior director, product management, Tarkett, told FCNews.
Residential subsegment breakdown
The LVT segment, resilient's growth heavy hitter, saw some major shifts happen in 2019. From the decline in flexible click to the surge in rigid core and SPC and its cannibalization of the WPC subsegment, LVT was driven by several new factors.
Unabashedly, LVT growth was led by the likes of rigid core/SPC. FCNews research shows that in one year the subsegment doubled in terms of volume and more than doubled in terms of dollars. According to the research, the subsegment accounted for 37.1% of the LVT market in terms of residential dollars or $1.126 billion, compared to $490 million in 2018. In terms of residential volume, SPC accounted 33.4% of the LVT market or 667.5 million square feet, compared to 335.5 million square feet in 2018.
"SPC is the fastest growing category due to great aesthetics, waterproof properties, impact resistance, dimensional stability and overall value," said Ana Torrence, hard surface category manager, Engineered Floors. "These attributes, coupled with the ease of installation, has accelerated growth in this category's popularity in a time where qualified installers are in shortsupply."
Shaw Floors' Francis said the company also sees SPC taking share and driving category growth due to its performance attributes. "The big three are dimensional stability, telegraphing and temperature," he explained. "And it just continues to perform. We don't think SPC is done—we're still in the growth cycle before we hit the life cycle and start peaking. I don't see that changing until another major innovation comes along."
The residential WPC market continued its downward trajectory from the previous year, taking a hit in 2019. FCNews research shows WPC declined 17.4% in terms of dollars to $929 million in 2019, compared to $1.125 billion in 2018. In terms of volume, WPC declined 16% to 429 million square feet in 2019, compared to 511 million square feet in 2018. Manufacturers agree,WPC market share has been cannibalized by the SPC subcategory. "Little to no [resilient] investment is in growing incremental WPC capacity," Mohawk's Sanchez said. "Globally, I think you'll see people looking at shifting their manufacturing from WPC to SPC."
When comparing WPC vs. SPC, Kurt Denman, chief marketing officer, Congoleum, said, "You trade almost no performance attributes from WPC to SPC, but you get it at a much better price point. So, we think it's still going to continue to be the growing category, and it's going to move all WPC to SPC."Mohawk's Sanchez explained that the performance characteristics of WPC vs. SPC came into view for many consumers who began the five-to-six-year moving cycle in 2019. "They are seeing that WPC, though it was beautiful, didn't have the same durability that the new SPC does," he said. "That's creating an increased awareness."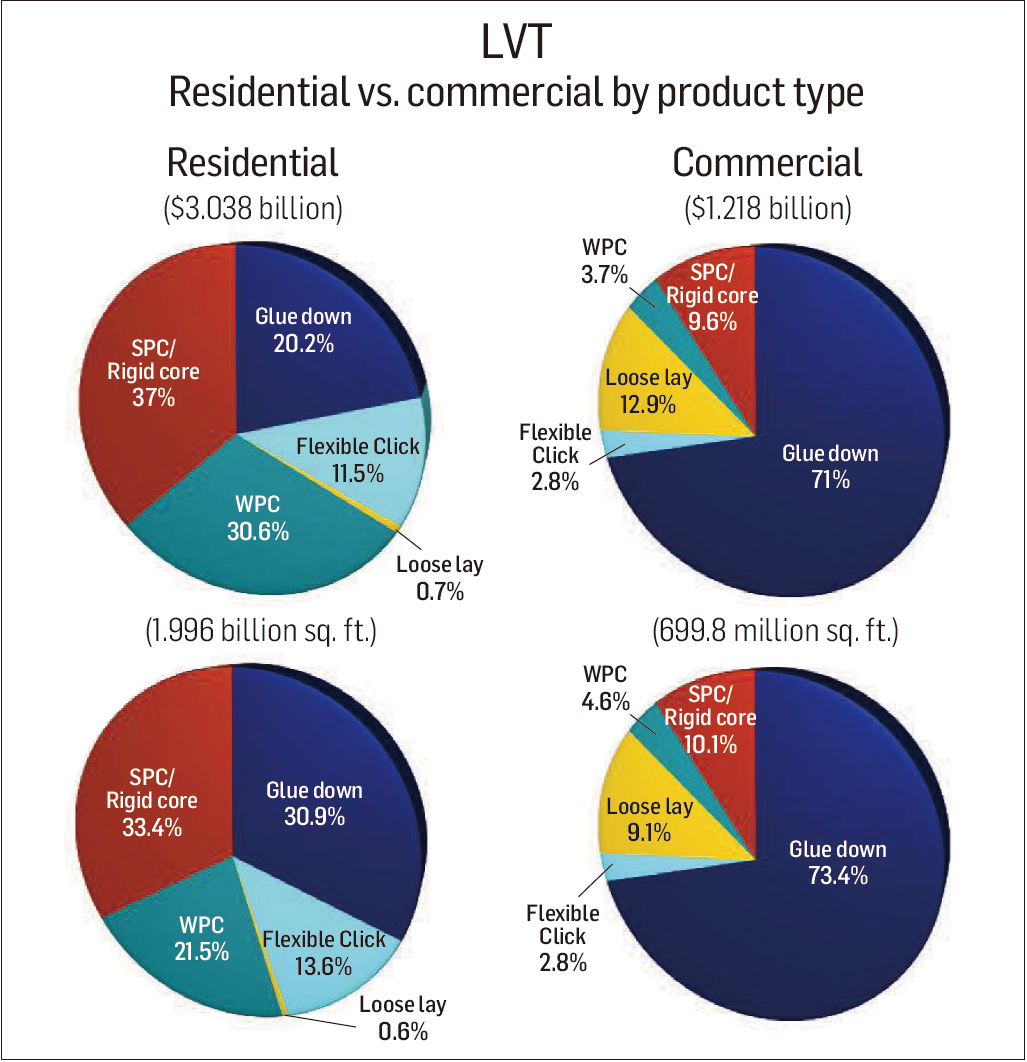 The tariff increases of 2019 also put WPC under the microscope, according to suppliers, and pushed SPC further into view. "WPC was almost all produced out of China, and when the tariffs came into play it impacted the WPC price so dramatically that you saw this SPC growth start to happen," Congoleum's Denman explained. "People thought, 'Is [SPC]really that different?Dowe really need another category of similar performance attributes?'"
Flexible click products within the residential market also continued to lose ground. The subsegment saw an 18.8% decline in terms of sales in 2019 to $349.5 million, compared to $430.4 in 2018. In terms of volume, the subsegment saw a 21.8% decline to 272 million square feet, compared to 348 million square feet in 2018.
Overall, flexible click represented 11.5% of residential LVT dollars in 2019 compared to 16.5% in 2018. In terms of volume, flexible click represented 13.6% of the residential LVT market vs. 18.7% in 2018.
Supplierssay the category has lost share to other subsegments and today is consigned to the lowend builder/multi-family segment where thinner, less expensive structures are used. "It has lost significant share to rigid products," said Jimmy Tuley, vice president, residential resilient, Mannington Mills. "This product is relegated mainly to the home centers."
Shaw's Francis explained that flexible click wastwo innovations ago—a lifetime in the flooring space. "We're probably seeing that product mature—maybe even a couple years ago," he said.
However, for some suppliers, click still has its place."We're still seeing growth," Mohawk's Sanchez noted. "It is a very easy product to work with. There's a huge installer base that's familiar with it. We would all agree that rigid core/SPC is growing at a faster rate, but there are different tools in your toolbox for different problems. Each has their place."Within the residential market, glue-down LVT maintained its share of dollars, representing roughly 20% of the market. FCNews research shows gluedown LVT represented $613 million in 2019, compared to $524 million the year prior.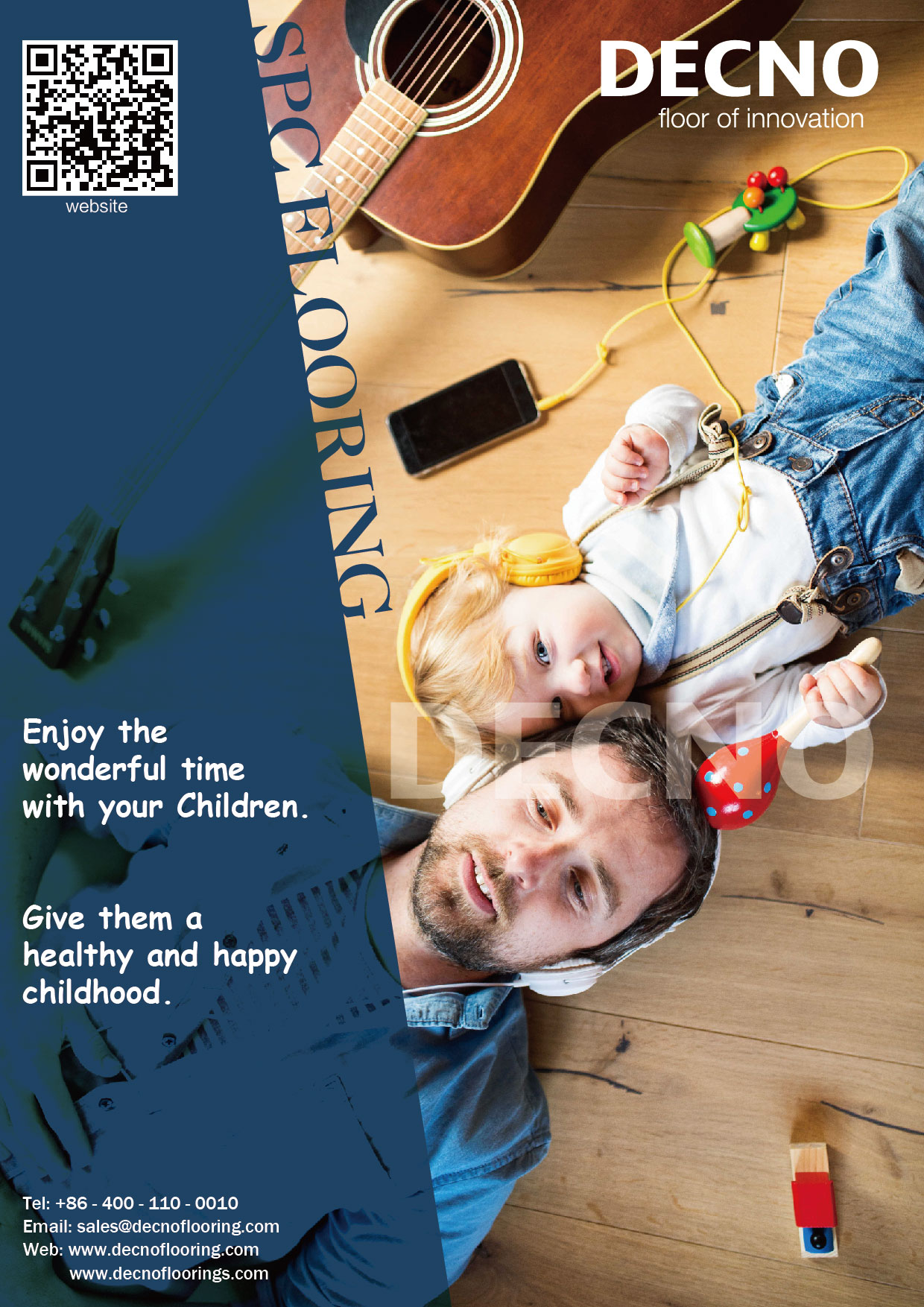 Commercial
FCNews research shows resilient products in the commercial market (not including rubber) generated $1.771 billion in sales in 2019, a 4.85% increase from $1.689 billion in 2018, while volume was up 2.8% to 1.183 billion square feet (without rubber) in 2019 from 1.151 billion square feet in 2018. Industry experts said key sectors such as health care, office, education and Main Street assisted resilient flooring's growth in the commercial market, as LVT and SPC products continue to poach market share from soft goods as well as other hard surfaces.
Al Boulogne, vice president, commercial resilient, Mannington Commercial, provided a segment by segment industry overview. "Retail was down because of the decline in traditional retail space in general," he said. "Health care was steady in terms of growth. Education was a big gain for resilient in 2019, related to state level funding. Workplace is a newer frontier for resilient (mostly related to LVT), and the products are quickly gaining share here as well."