What's in a name?
According to the Multilayer Flooring Association (MFA), "SPC flooring" refers to the class of rigid vinyl flooring products with a solid polymer core. That solid, waterproof core, experts say, won't ripple, swell or peel no matter how much liquid it is subjected to.
This core is ultra-dense with no foaming agents such as those found in traditional WPC flooring. It provides slightly less resiliency underfoot but is said to make the flooring extremely durable.
SPC vinyl plank features a stone or hardwood-look printed vinyl layer, which continues to refine its style and design.The dense, highly mineral-filled, extruded core of SPC flooring provides superior indentation resistance and is best for high-traffic and commercial applications.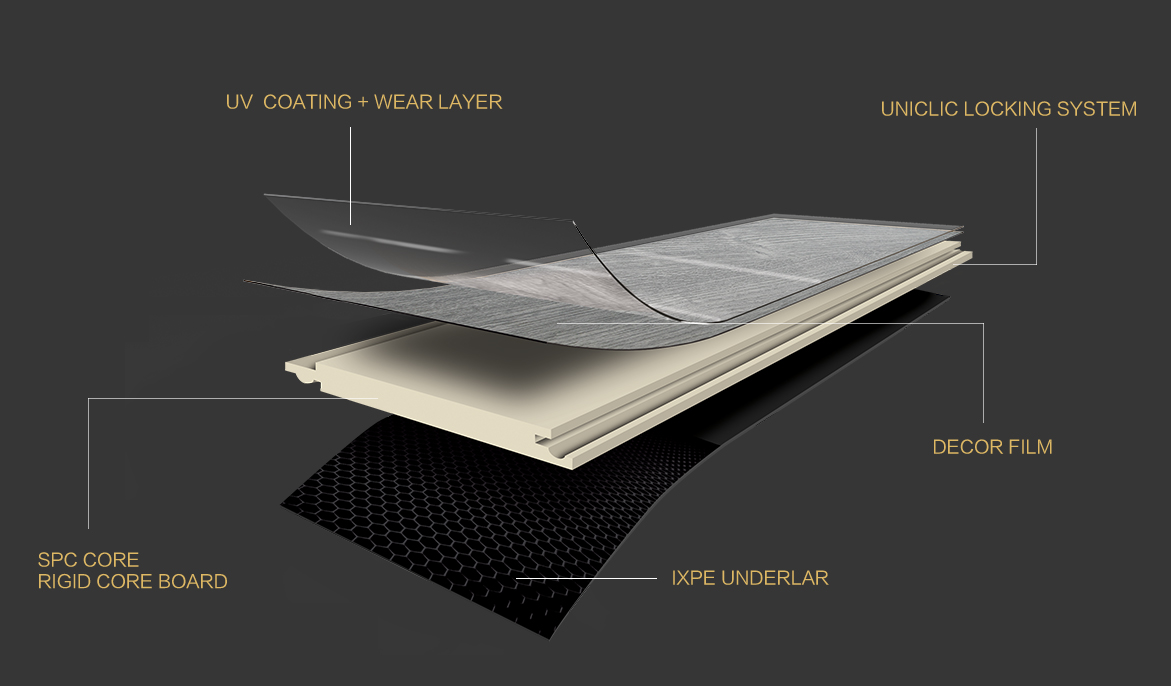 Competitive advantages
There are at least two reasons why rigid core has seen a surge in popularity among vendors, with new companies entering the market seemingly every month. For one, it is the fastest growing sub-segment of the fastest growing category. Retailers across the country are dedicating more showroom floor space to the category based on the growing demand. Second, the cost of entry is relatively minimal. Part of its rapid growth stems from the sub-segment's versatility. Although SPC rigid core flooring is suitable for any environment where you need a durable, waterproof floor, it is also ideal for settings such as commercial kitchens and bathrooms as well as grocery stores and other venues where spills occur. Unlike traditional vinyl that is flexible, manufacturers designed rigid core to
be unbending. As such, it is ideal for both commercial and residential settings.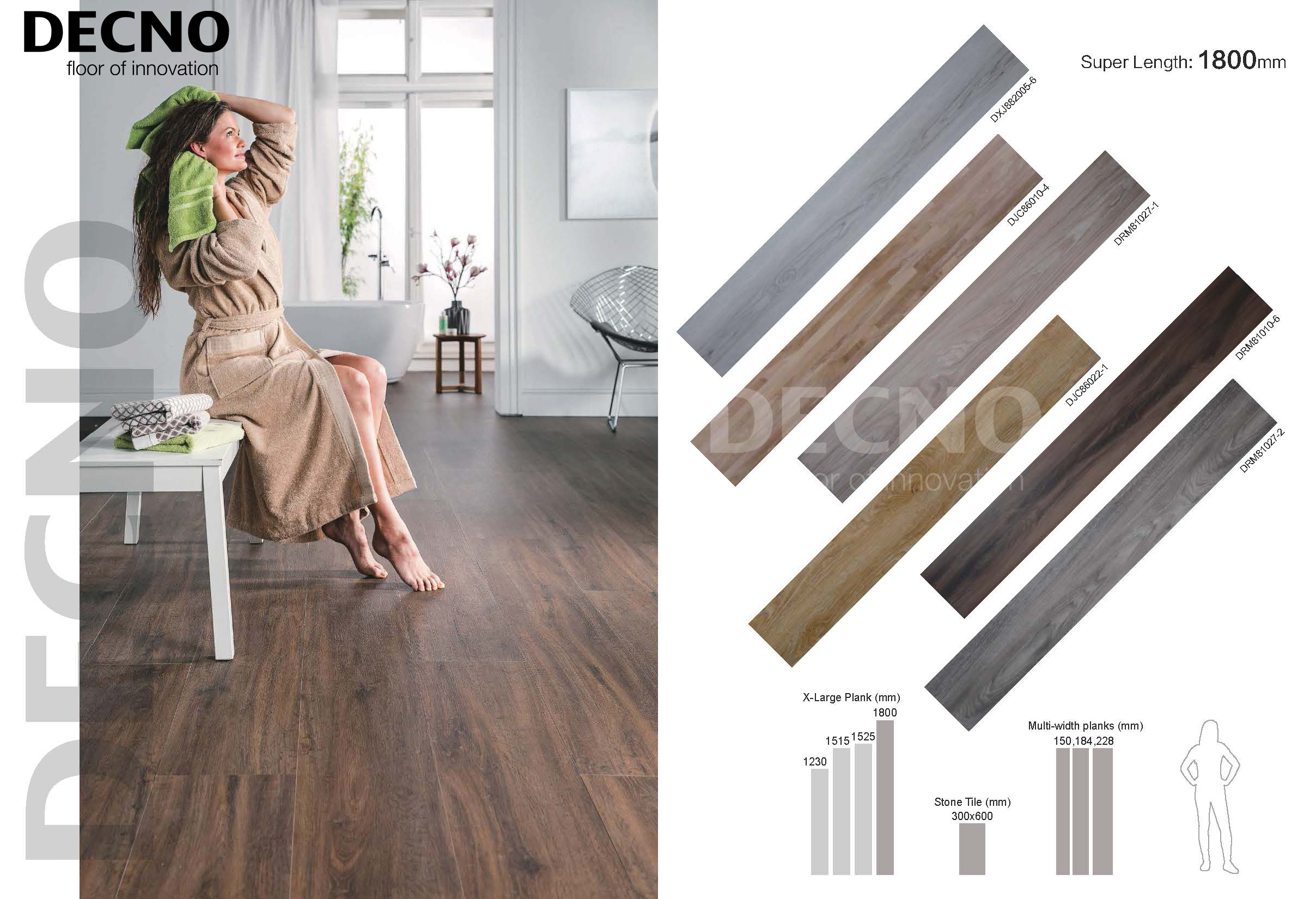 Future prospects
Experts believe composite waterproof flooring, led by SPC vinyl flooring, will be the high double-digit growth engine in hard surfaces over the next five years. Composite/SPC tiles as an alternative to ceramic tiles is the next big growth opportunity for a slew of reasons: SPC tiles are lighter and warmer than ceramic; they don't break and are cheaper/easier to install (click); no grout is needed; they are easier to remove; and, thanks to an attached cork backing, are more comfortable to walk/stand on.
What's in a name?
WPC flooring goes by several names based on the person you talk to. Some say it translates as "wood plastic/polymer composite," while others believe it stands for "waterproof core." Either way you define it, many would agree this category represents a game-changing product that continues to generate excitement and additional sales opportunities for dealers and distributors.
WPC viny flooring is a composite material made of thermoplastics, calcium carbonate and wood flour. Extruded as a core material, it is marketed as being waterproof, rigid and dimensionally stable. In
an effort to differentiate their products, suppliers are branding their WPC vinyl plank offerings with names such as enhanced vinyl plank, engineered luxury vinyl flooring and waterproof vinyl, to name a few.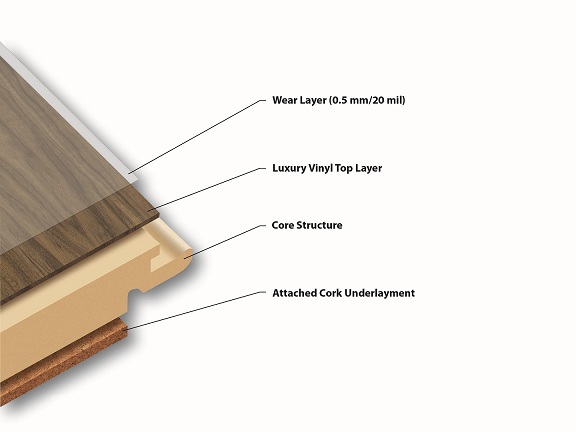 Competitive advantages
WPC's features and benefits make it a strong competitor against almost every other flooring category available today. Its primary benefits are its waterproof core and its ability to go over most subfloors without much preparation. Unlike WPC, traditional vinyl floors are flexible, meaning any unevenness in the subfloor will likely transfer through the surface. Compared to traditional glue-down LVT or solid-locking LVT, WPC products have a distinct advantage because the rigid core hides subfloor imperfections, proponents say.
Against laminate, WPC shines in the waterproof arena. While most laminates are engineered to be water "resistant," WPC flooring is marketed as truly waterproof. Proponents of WPC say it is more suitable for environments in which laminate would not normally be used—including bathrooms and basements. What's more, WPC products can be installed in large rooms without an expansion gap every 30 feet—a long-established requirement for laminate floors. WPC vinyl flooring is also seen as a quieter, softer alternative to laminate because of its vinyl wear layer.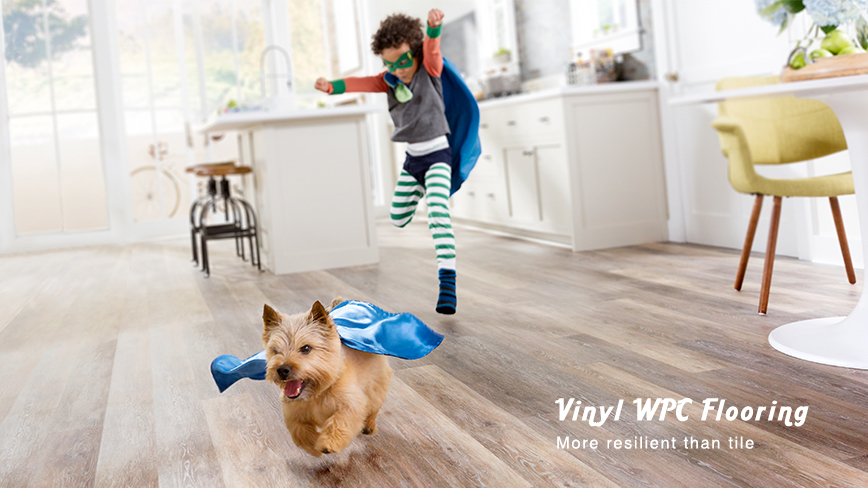 Future prospects
In 2015, Piet Dossche, CEO of US Floors, predicted WPC "will forever change the landscape of LVT and several other flooring categories." If retailer response is any indication, WPC has in fact left its mark on the industry and is likely in it for the long haul. This is based not only on the sales and profits the category is generating for floor covering dealers but also the high level of investment suppliers are making.