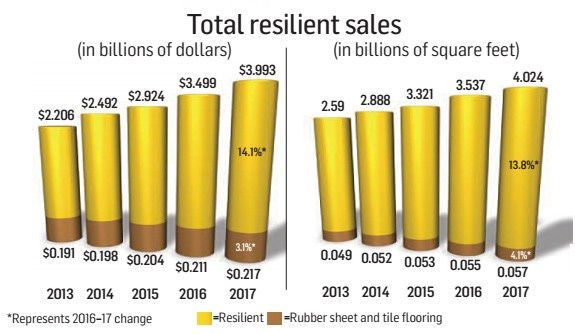 Industry in terms of percentage growth, thanks mainly to the performance of subcategories such as WPC and SPC. FCNews research shows the category generated $3.993 billion in sales in 2017—an industry leading 14.1% increase over 2016's
$3.499 billion. In terms of volume, the category racked in 4.024billion square feet at the first point of sales, a 13.8% increase from 2016's 3.537 billion feet.
The resilient sector's chart- busting performance in 2017 comes even more into focus when measured against other hard surfaces. When stacked up against ceramic tile, hardwood, laminate and other hard surface materials, resilient accounted for 30.34% of sales. When taking total flooring sales into account, resilient represented 18.15% of revenue and 20.4% of volume.
What's even more impressive is the fact that resilient flooring's percentage increase in revenue is a little over three-and-a-half times the growth of the entire industry, while volume growth is approximately five times that of the flooring sector as a whole.
Resilient's double-digit growth in sales in 2017 is even more significant when looking at its performance over the past few years. FCNews research shows 2017's sales represent a 36.6% increase over 2015's $2.924 billion and a 60.2% increase com- pared to 2014. To put resilient's growth into perspective, total resilient sales increased by 96.2% from 2012's $2.035 and 81.8% from 2007. Meanwhile, total resilient volume increased 65.6% from 2012's 2.43 billion square feet and 23.8% increase over 2007.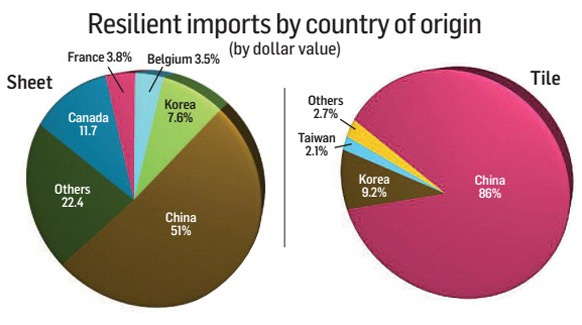 Industry executives cite several factors that contributed to another year of stellar growth of the category. One of which is the lingering effects of an improving economy. As Kurt Denman, chief marketing officer and executive vice president, sales, Congoleum, explained, "Fundamentally, the economy is good. Consumer confidence is high and there's a ton of building going on, which has helped in all aspects of resilient.
Many resilient manufacturers also point to the overwhelming success of WPC and rigid core products. "Multi-layer flooring is leading the way in LVT growth," said Russ Rogg, president and CEO, Metroflor Corp. "While other variations are also growing, multi-layer flooring is outpacing glue-down and other varieties in a significant way."
Executives like David Sheehan, senior vice president, product management, Mohawk Industries, believe WPC and rigid core continue to help push the resilient needle as more people discover the products' benefits. "Floors that are rigid in nature are the darlings of the industry and have captured the attention of many sales associates and, in some cases, are being oversold to customers," he noted.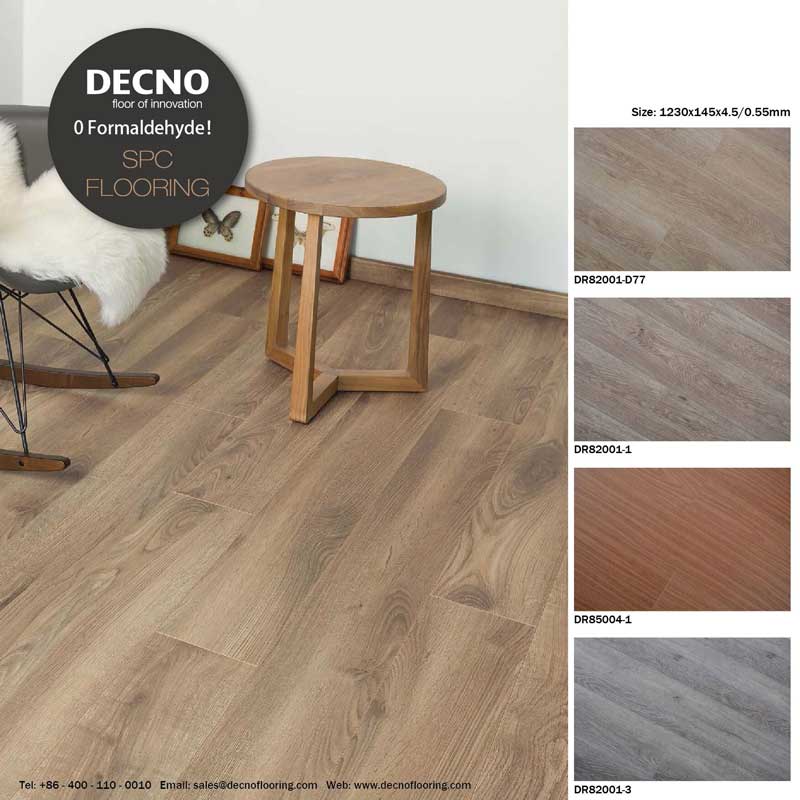 Another key factor driving resilient sales is the constant innovation surrounding LVT, WPC and rigid core products. "Compared to other flooring categories, the LVT sector has seen many changes from additional looks, durability, availability and sheer innovation," Jamey Block, vice president, product management resilient, Armstrong Flooring, told FCNews.
Beyond the category's various product attributes, another driving factor is the number of manufacturers in the resilient game. "More people are discovering the benefits of resilient flooring," said Steven Ehrlich, vice president of sales and marketing, Novalis Innovative Flooring. "That discovery fuels demand, which, in turn, fuels more production— and so on." Another factor is the growing availability of resilient across a variety of flooring brands, he added.