Visuals in SPC flooring continue to evolve to look more like true hardwood. And hardwood category has faced challenges in recent years due to resilient flooring sprouted. But nothing beats the real thing. Hardwood is still the top choice for high-end use no matter for residential or commercial in spite of its shortcomings.
However, sometimes we would think it would be much better if a kind of floor can combine the benefits of SPC flooring and the authentic beauty of hardwood flooring.
Now, DENCO has this Engineered Hardwood SPC flooring-WSPC, a floor that can answer all needs.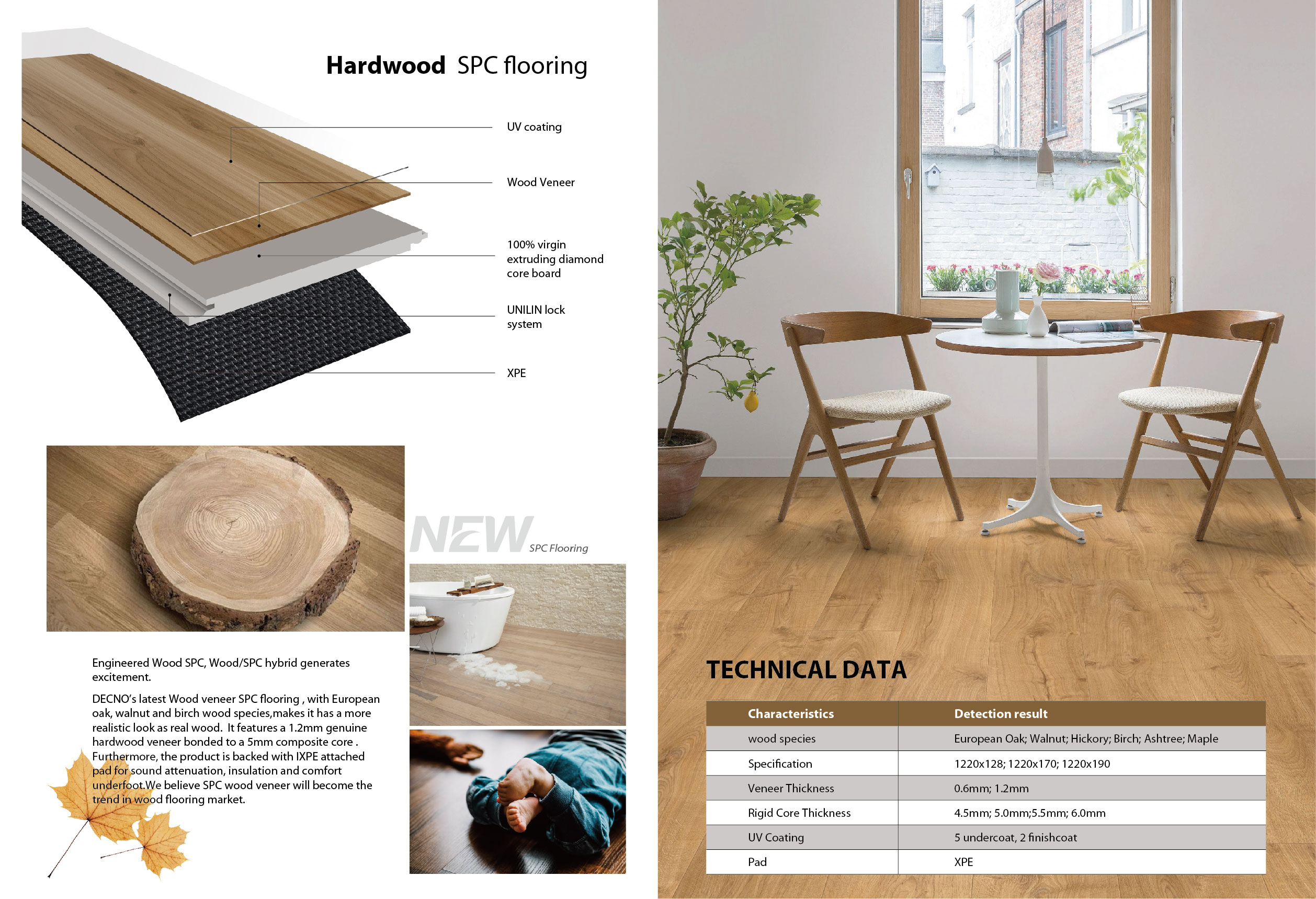 The structure of wood veneer SPC flooring from top to bottom: UV coating( 6 layers undercoat, 3 layers finishcoat), wood veneer, 100% virgin material core board, unilin lock and underlay. It has overcome the shortcomings of hardwood SPC which is vulnerable to damage, be mold, etc.
Nothing Beats the Real Beauty
Besides all the well-known rigid core advantages, real wood beauty is the spotlight.
DECNO hardwood SPC flooring has 8 wood species: White Oak, Grey Oak, European Oak, Russian Oak, Teak, Black Walnut, Birch and Hickory. The wood veneer thick is 0.6mm or 1.2mm available. And we have handscraped, brushed and smooth texture surface to underscore the organic appearance and elevate the space. It gives consumers an alternative to the expensive wood floor and provides consumers real beauty that will increase in value over time.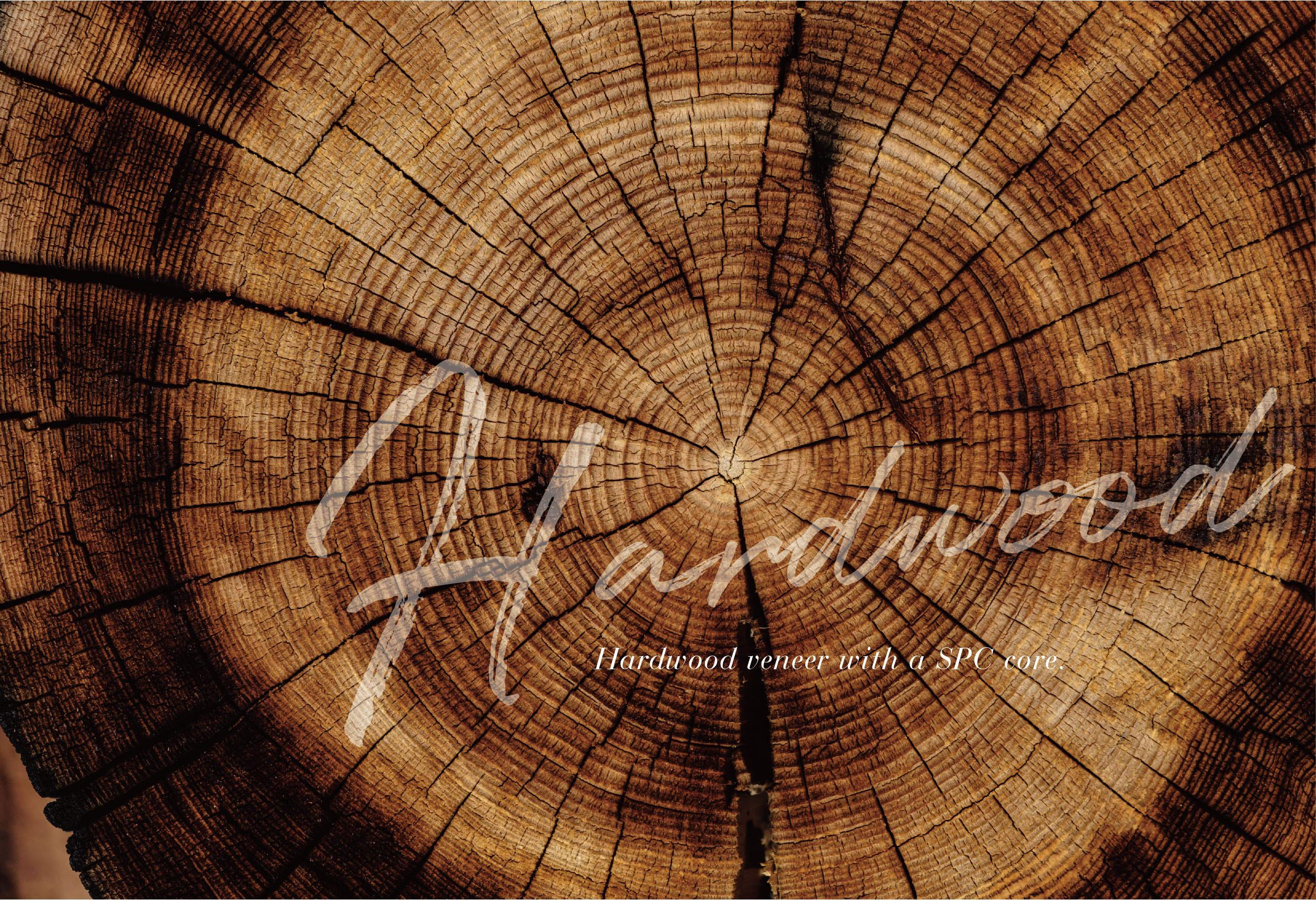 Comfortable Life & Luxury
Wood Veneer married the rigid SPC core, this engineered hardwood flooring is durable and comfortable, which can give you the real wood warmth and feel. You can fully embrace natural charms indoors and happiness with families.
With innovative silver ion antimicrobial protection coating and IXPE underlay against the growth of bacterial, mold, fungi and moisture, 99% cleaner than untreated surfaces. You can have a floor that is both comfortable and hygienic.
Secret Rigid Core
The core of a flooring is like the heart. Different flooring performances sometimes are related to the core difference. The waterproof rigid core of DECNO hardwood SPC flooring is as premium as ever. 100% virgin material, formaldehyde-free, no heavy metals, no phthalate. No mold from the core, stay as fresh as new.
DIY-friendly & Easy Maintenance
Unilin click lock system simplifies the installation process for consumers or professional installers, and eliminates the need for adhesives, grout and more.
You don't even need to take time to wax or sand and as a floating floor, it is possible to install even when the subfloors have minor irregularities.DECNO WSPC flooring is not a lookalike product, but an engineered wood produced by a manufacturer who has the gold standards of product, quality and service. It has the warmth and feel of a real hardwood floor, and provides timeless beauty. Nothing adds value more than a hardwood SPC flooring without compromising its performance. It is sure to change the game!