DECNO controls everything from design to innovation, from production to delivery. We are not only manufacturing and exporting SPC flooring, but exporting our values with our best services.

It is well-known that the resilient category has reaped the benefits of exponentially growing demand for home renovation and building materials, especially the rigid core sub-segment which has been continually leading the charge. But among all those lookalike products, how to help our customers stand out from the market is the priority for us to figure out. We have made big progress as we look back on 2021. Now let me walk you through our innovation journey.
Hardwood SPC Flooring—Pure Wood Veneer+Rigid Core ,Bring Nature Home
People love the superior performance of SPC flooring over other types of flooring and they love the authentic wood beauty in their home as well. This demand has become one of our tasks that needs to be completed. After our persistently research and development, we brought out the masterpiece in March 2021, which is the perfect combination of wood beauty and robust performance, and that is Hardwood SPC flooring. Multiple UV coating gives ultra-strong protection against damages on the surface of the wood; mineral core infuses durability and waterproof attributes; and after a thorough investigation and adjustment, our exclusive formula can guarantee stability.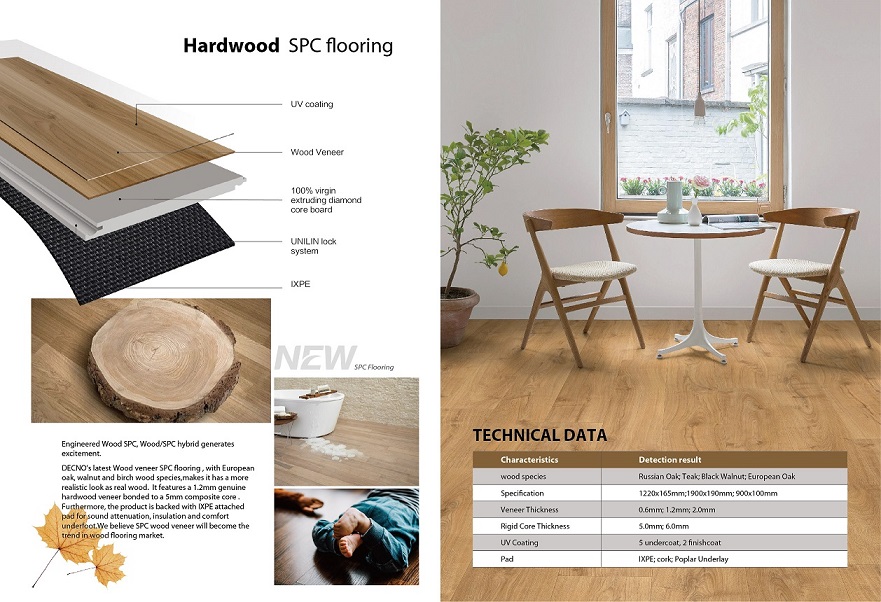 And in order to give our customers competitiveness, we take steps further. Large format: 1900mm length to present a more spacious and luxurious effect; Herringbone: the best-loved in many people's hearts. And when combined with our Hardwood SPC flooring, it becomes another hit on the market very soon; Parquet: stunning design combined with our product to bring warmth and character to any space. In the new year, we will continue to invest and more choices are on the way.
SPC Wall Panel—You Modern Integral Design Solution
I believe you must know the trend of flooring on the wall. Many people want to create a consistent effect in their home design, and that's one of the reasons why integral design always has a place in people's minds. For the sake of creating a multi-functional wall panel that is as good as the attributes people love on SPC flooring, we started our research and development in May 2021, and launched our SPC Wall Panel.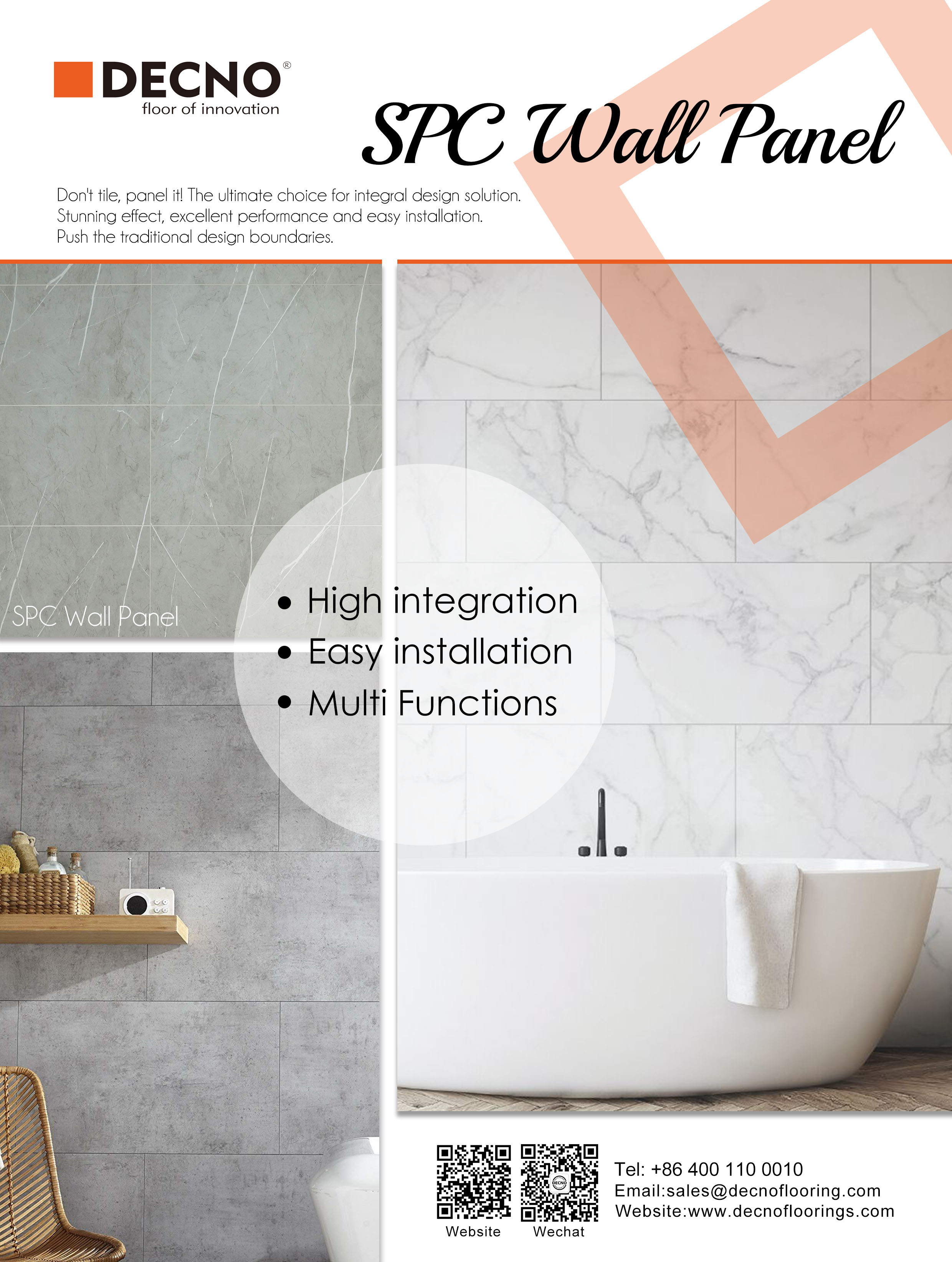 Various Format: from standard dimensions such as 900*450mm, 610*305mm, 1220*184mm, we also take the practical needs and design demands into consideration, 2200*450mm, 2600*450mm and 2600*600mm will be sure to decorate the wall with exceptional effect.
Diverse Pattern: we know that wall decoration materials require a lot of creativity, and that's what we have done to expand our patterns. Stone, marble, wood and other patterns you may never find from others, you can find the solutions from DECNO. And in order to give customers an irresistible reason to choose SPC wall panel in addition to the acclaimed performance, we use the decorative engraving machine to achieve unrivaled visual interests. And together, DECNO SPC Wall Panel has become a perfect product to empower your business, expand your product collections and increase profit margins.
Fishbone EIR—Take Fishbone Visual to the Next Level
Apart from the timeless herringbone, fishbone or chevron is another popular trend and increasing market demand. In July 2021, we got down to take our fishbone SPC flooring to a new level of appearance, and that is fishbone EIR flooring. As we all know, EIR is a technique that can intensify the texture, depth, and appearance of the flooring. And it can align perfectly with the image of the wood in order to achieve the 3D visuals. When it comes to fishbone, we need to customize the roller and make it align perfectly with the fishbone pattern as well. And we are glad that we make it and made it excellently, which can let you enjoy two worlds of beauty at the same time.
Herringbone SPC Flooring with UNIDROP Click—A Change in Click, Big Grow in Business
The click system has always been evolving, and every little change can make a big difference. Although everyone loves herringbone, the difficult installation holds a lot of people back. We happen to be the flooring expert that can solve every problem and give you the perfect solution. After experimenting with different types of clicks since June 2021, we equip our herringbone SPC flooring with the UNIDROP click system, a one-piece fold-down locking technology that can let you install easier and make the locking system stronger.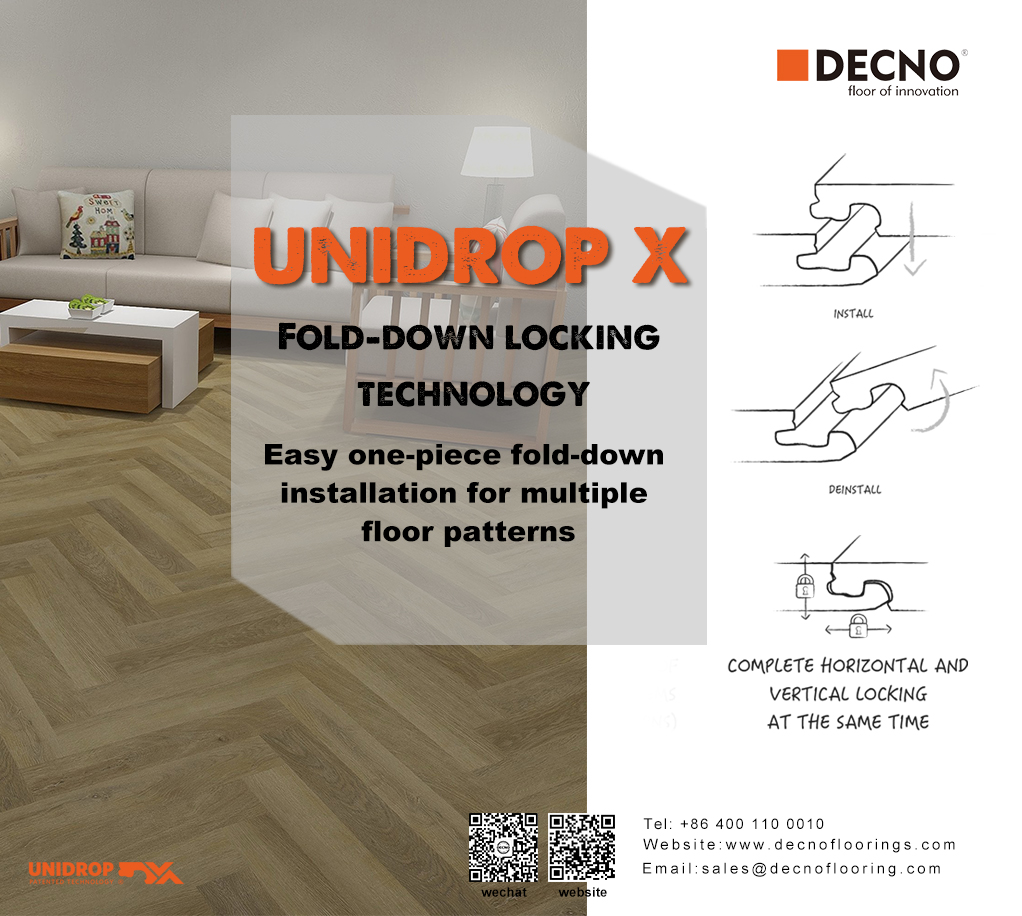 We have made great progress in 2021, and we are happy that we can bring our excellent flooring to more countries. 2022, a new year and fresh start, we will continue to produce innovative products with advanced performance and provide you with our complete services to all our customers.