Hygienic SPC Flooring Makes You Lead the Market. Why You Need Hygienic Flooring for Your Business?
Take it or not, the pandemic has changed our lives forever. Studies have shown that the pandemic has made consumers more aware of the need to maintain hygiene—both on a personal level as well as in their homes—to reduce the chances of infection. As a result, more and more antibacterial materials and antimicrobial products spring up. DECNO hygienic SPC flooring is no exception.
Invisible Enemy
Flooring, as one of the largest areas in our space, has the most interaction with humans. But we are not the only one who lives on the floor. Although you sweep and mop every day, that's not enough. These microorganisms can quickly accumulate on floors and pose risks to people. They can be breezed in when you open the windows and doors; they can be carried in when your lovely dogs and cats leave muddy footprints on your flooring; bacteria would contaminate and transfer quickly when you drop a piece of food; they can be introduced through breathing, sneezing or coughing; even when you have interaction with others, they can be brought in...
This is absolutely not alarmism, we are literally exposed to bacteria in our homes, workplaces and public spaces every second, and they can survive for a considerable amount of time.
Just Imagine
We have so many wonderful words to describe home: sweet, safe, comforting, etc.
But when there are bacteria on the flooring, which is inevitable, things are not that sweet, and it is definitely no good for crawling babies. It would adhere to our shoes, hands or other stuff and be taken with us wherever we go. Interaction with others people and other items are unavoidable, then how to deal with the threats?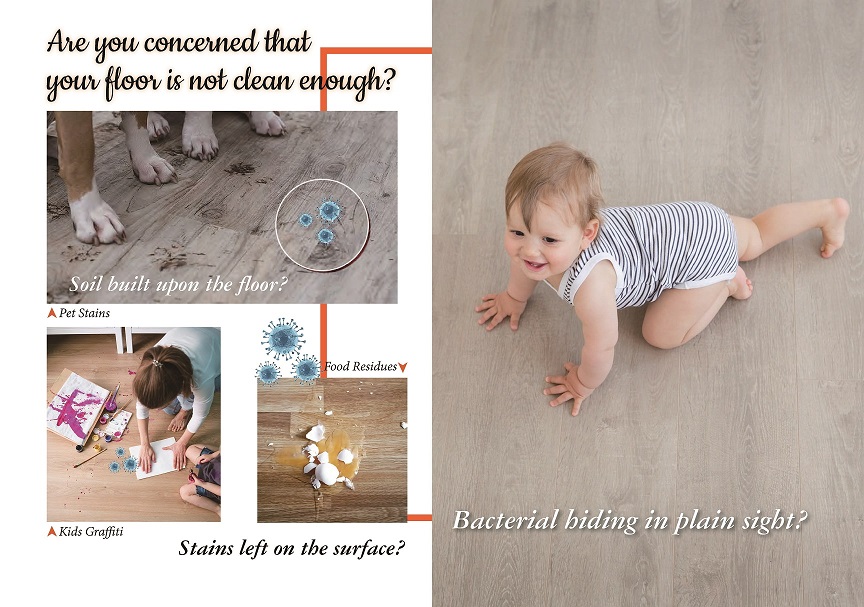 Your Antibacterial Flooring Solution
Through research and testing carried out by our R&D team, DECNO finds a way to provide a safer and healthier flooring—silver ions added UV coating and antimicrobial underlay.
Silver ion has been known to be effective against a broad range of microorganisms. Significant reduction of S.aureus and E.coli cells has been observed, and each bacterium's metabolism reproduction has been inhibited and prevented. It can penetrate bacterial cell walls and change the structure of cell membranes and resulting in cell death. 99 % cleaner than untreated flooring certified by SGS.
Our innovative antibacterial underlay is moisture-proof, mold-proof and fungi-proof. The closed-cell structure can help to provide better moisture protection. Bacteria in daily life such as S.aureus, E.coli, A. brasiliensis, penicillium funiculosum, green mold can be inhibited and killed.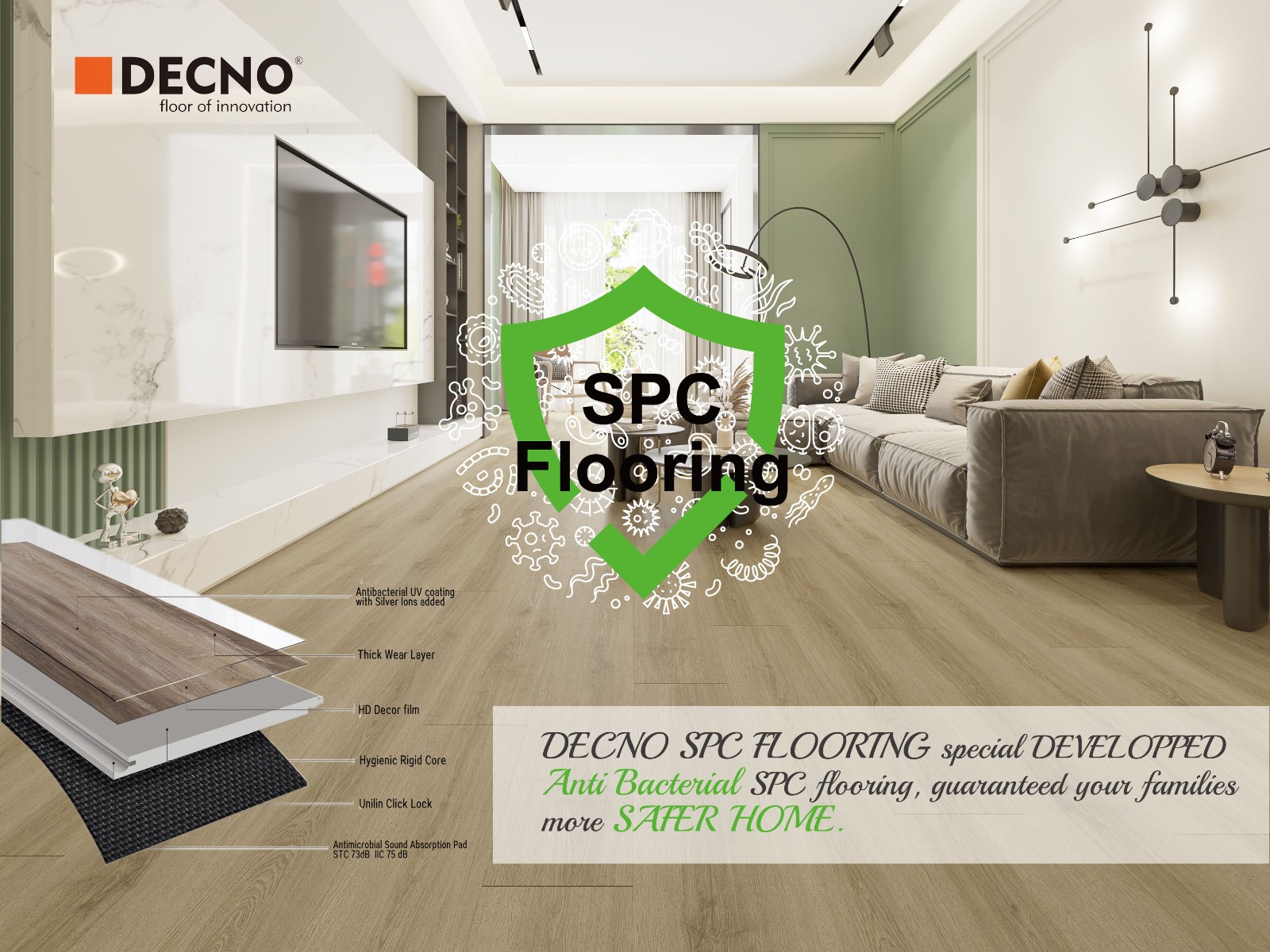 Long Effectiveness
Besides its inherently antibacterial attribute, DECNO hygienic flooring can provide 24/7 continuous protection. It will remain effective even after long-term use and can't be washed off, worn away or leached out, and perform validly against normal bacteria and stubborn bacteria.
We are in an interactive world. In spite of distancing, we should not be afraid of being touched. Because DECNO hygienic SPC flooring has got your back. We can make your home become clean, safe and healthy again.