Home is the harbour of the soul where we can get the sense of belonging. The interior decoration of the house makes much difference to how we feel at home. As an essential part of home decorating, the selection of flooring appears to be particularly significant. In addition to the performance, customers now are paying more and more attention to the appearance design of flooring. And products with characteristics are being pursued by an increasing number of young people.
The existing flooring market abounds with multiple design patterns of flooring showing different styles and charms. Traditionally, there is only one design pattern for each type of flooring. Actually, the design pattern of flooring is up to the decor film -- a roll of special paper on which the design pattern is painted. There are mainly three specifications of 1270mm, 1580mm, 1890mm. It means that for a roll of decor film, the design pattern repeats again and again every 1270mmm, 1580mm or 1890mm, which may lead to a repeating and featureless decoration in the installation of flooring. To reduce the concern about the problem of repetition and provide better service for customers, DECNO launches a new type of product, SPC flooring of A/B/C design.
For the new-type flooring, DECNO introduces an innovative decor film which has two design patterns (A/B) with the same color but different designs. The designers have made great efforts to create perfect combinations of similar designs. The design A and B of the new-type flooring can be freely put together in the installation of flooring, which would bring a distinctive and natural effect without repetition, as well as show the artistic beauty and the unique charm. As long as customers need, DECNO may also provide the SPC Vinyl flooring of A/B/C/ Decor Film Pattern Design.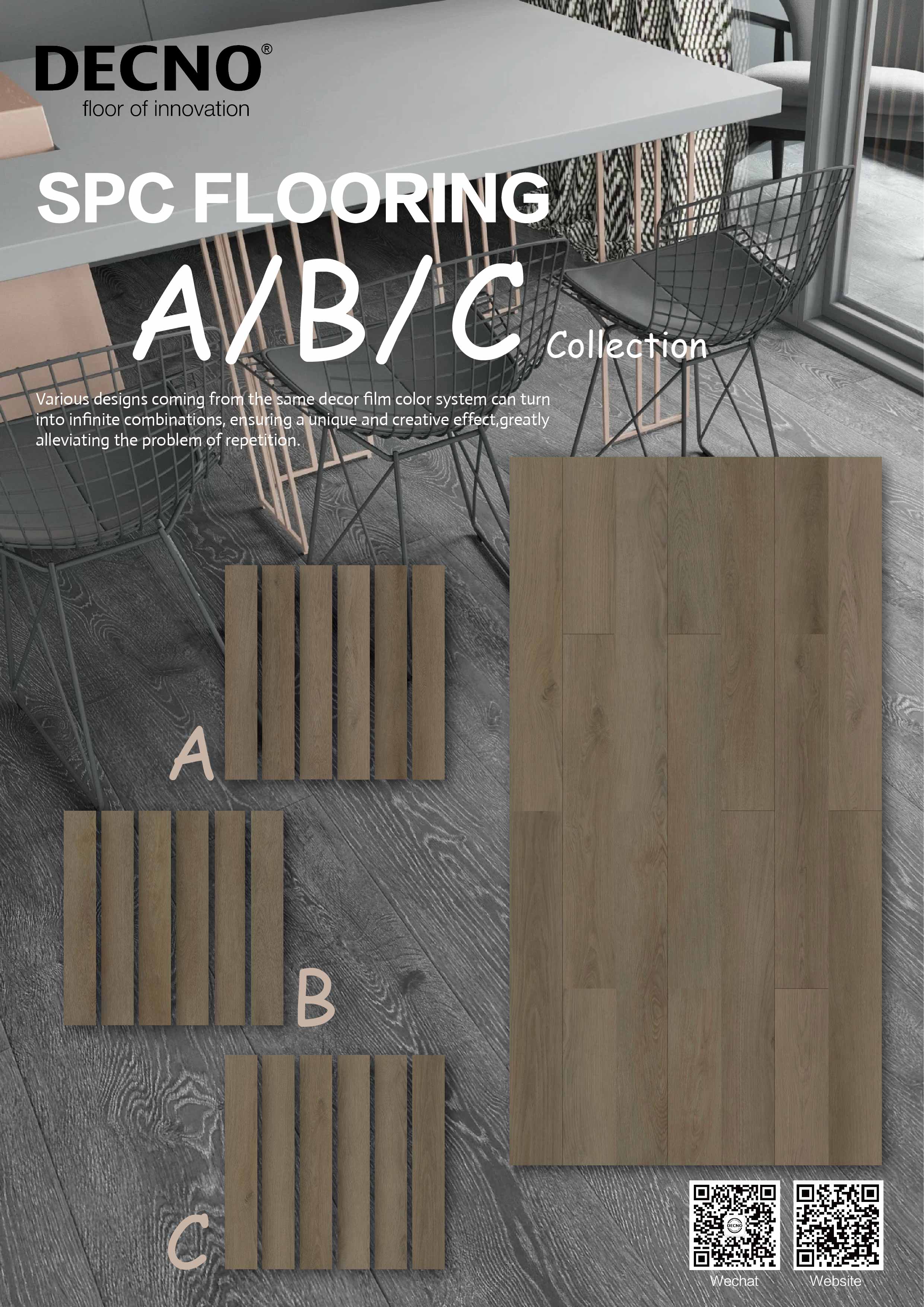 With numerous flooring design patterns, the right choice would certainly make the decoration effect even better. The selection of flooring shall go with the the whole style of decoration. Here is some tips.
Southeast Asian style is know for the beauty of its national characteristics. Wood flooring with warm tone and semi-matte decor would be suitable.
Young people may prefer nordic style because it is concise and lively. Oak, maple, walnut flooring with large texture may be a perfect choice. And choosing neutral colors would add brilliance to the whole decoration.
Chinese style shows the culture of ancient and embodies the solemn and elegance. The natural texture and color of teak and redwood flooring can ideally match up with this cultural style.
Pastoral style gives people a sense of getting away from noise and returning to the nature. Light or dark colors like wheat, coffee and primary color would work in concert with the whole decoration and build a quiet and natural environment.
Modern simple style perfectly expresses the fashion of simplification. It is not only a way of life but also a style of living philosophy. Light colors would absolutely be a good choice. To add delight to the room, you may also choose solid wood flooring with natural color.
No matter classic, modern or your own style, DECNO is right here providing the right flooring to suit any interior design.