Real wood-look flooring has been trending for years.
SPC flooring
and engineered hardwood flooring are two popular options concerning the real wood visuals.
Instead of choosing an expensive real wood flooring, you can choose from plenty of consumer-friendly products that feature a trendy, real-wood visual with the added performance benefits of a rigid core construction such as SPC flooring.
Engineered hardwood flooring featuring a real wood surface layer and an artificial core, is natural and classic, true to its originals. With engineered hardwood you may experience the warmth and beauty of genuine wood planks. It is one of the greatest ways to create a timeless style for any room.
Some people may get confused by SPC and engineered hardwood flooring, because they typically look the same from the appearance. But actually there are key differences between them.
1.Structure
Engineered hardwood flooring(WSPC): wear layer(aluminum) + top wood veneer + many different layers of plywood or a high density HDF board + balancing backing layer;
DECNO SPC flooring: wear layer( UV coating) + wear layer + decor film + rigid core made of 100% virgin material + sound adsorption pad.
The differences in construction will also result in performance differences.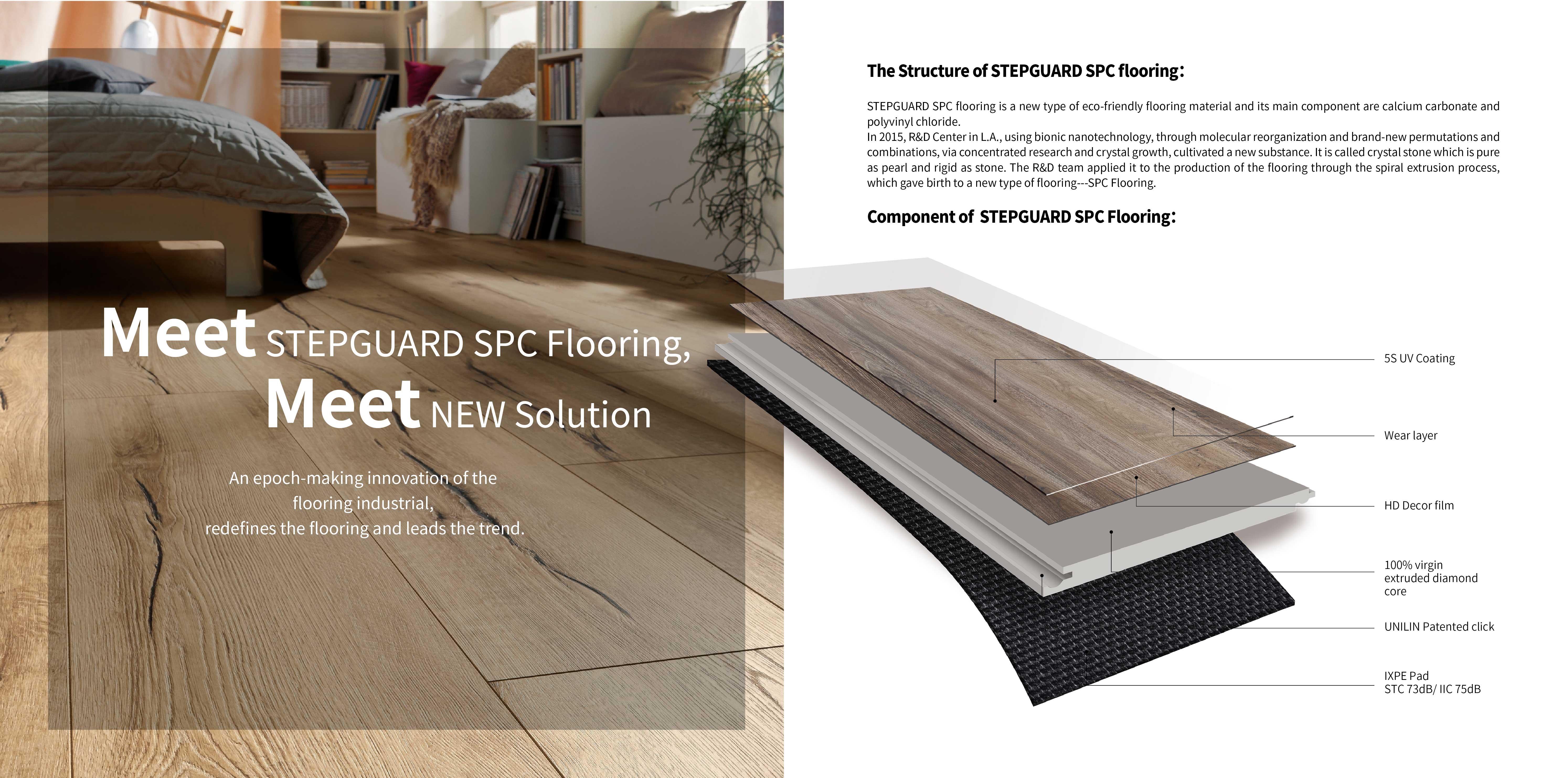 2.Appearance
WSPC is constructed with a wood veneer, so it features the beauty of natural wood grains.
DECNO SPC flooring is with HD decor film which can simulate the real wood patterns and textures as well as ceramic or carpet patterns.
And with the development of 3D printing and innovation in surface texturing, not only can you experience a real-wood look, but also various styles with SPC flooring.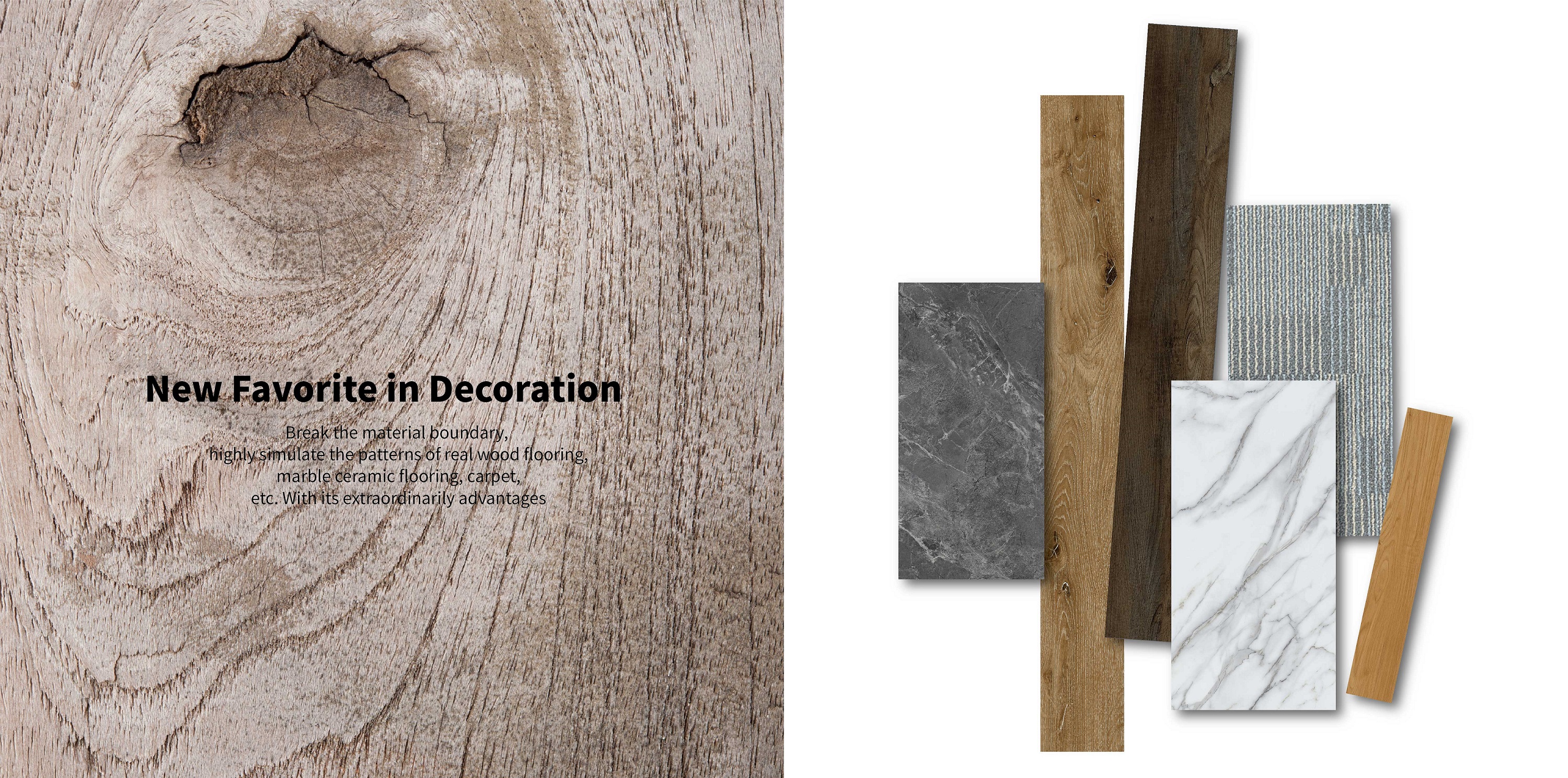 3.Durability
Engineered hardwood flooring is aluminum oxide pre-finished and is consist of multi-layer plywood.
DECNO SPC flooring is processed with 5S U-guard UV coating and 100% virgin material which makes it perform much better among other flooring categories in terms of wear resistance, scratch resistance and impact resistance. It can even withstand the high traffic area.
4.Kidproof & Petproof
It would be tricky for engineered hardwood flooring(
WSPC
) to remove the scratches from pet nails or other scratches caused by daily activities.
But it won't be a problem for DECNO SPC flooring. Double UV coating offers you ultimate scratches protection from daily active life.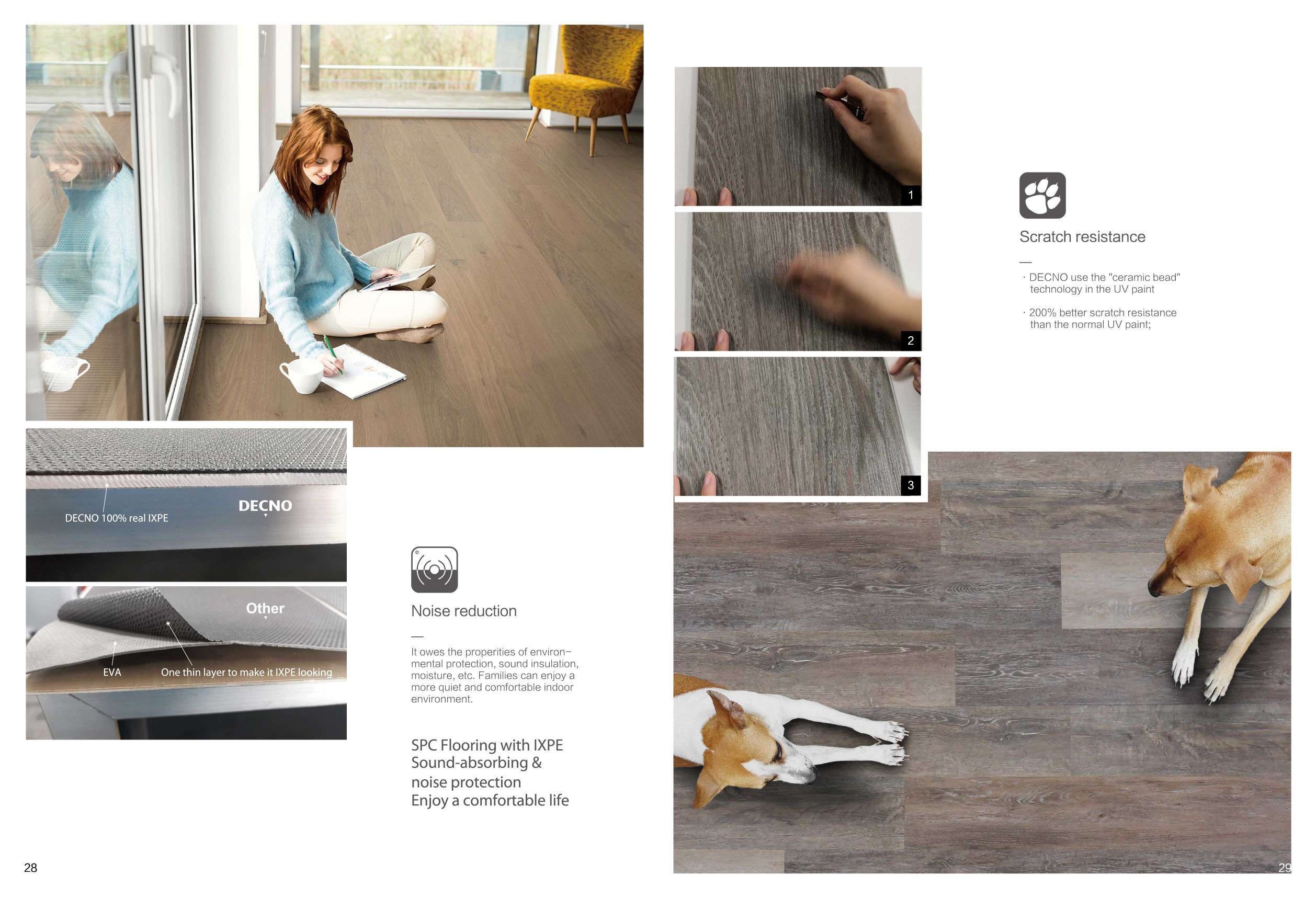 5.Waterproof & Dimensional Stability
Because of the differences in the structure, SPC flooring performs much better in waterproof and damp resistance and is making inroads to residential and commercial applications. You can install it in the bathroom, laundry room, kitchen or for commercial use such as hotels, malls, nursing houses, gyms, etc. DECNO SPC flooring has several times stacking during production to make sure there is no deformation.
However, engineered hardwood flooring can swell and warp if they get wet because both the surface veneer and the plywood base layers of the engineered hardwood flooring are wood.
6.Maintenance
Easy-to-maintain is a big advantage of DECNO SPC flooring. Due to DECNO unique surface coating, it is stain resistant. You can clean it on a daily basis with a broom or mop on the bare floor. No more afraid of spills or marks. It does not fade(color fastness to light classification A6), and you don't need to wax it additionally. It can stay in good condition with the least cost.
But it may have some scratches or damages on engineered hardwood flooring. It is best to avoid harsh cleaners. And some types of engineered hardwood flooring need extra refreshing

7.Healthy
This is another unbeatable advantage that SPC flooring has over engineered hardwood flooring.
There is no glue in the whole process of manufacturing and installation. All the parts are hot pressed together. Formaldehyde-free guaranteed. Safe for residential and commercial application, especially for the young and elder.
8.Cost
The cost of SPC flooring is much less than engineered hardwood flooring concerning of the product and all the preparation and installation. But you still can have a high-end look and feel with superior performance in all aspects from DECNO SPC flooring at a better price.
The price of engineer hardwood flooring may vary according to the thickness, brands, styles and species of the wood veneer, which is much higher than SPC flooring.