The way how the flooring install means much more than ever in today's flooring industry. Faster and easier installation and deinstallation process, stronger locking strength, and higher locking performances are what everyone pursues, especially for unique flooring patterns. UNIDROP X is what we use as the click system for our herringbone SPC flooring, and it literally achieves everything you want and makes your business in a different league. Install DECNO herringbone SPC flooring has never been so easier!
Unidrop X
Unidrop X is a one-piece fold-down locking technology invented by UNILIN, designed specifically for unique flooring patterns such as herringbone, chevron and other types of patterns. It makes use of left and right sided panels that are easier than ever to install thanks to the fold-down locking mechanism.
Quick & Intuitive Installation and Deinstallation
The short side click connection of this technology is made compatible with the long side click connection of the adjacent panel, creating endless laying patterns for the installer. You just need to push each panel vertically downwards into the adjacent panel to achieve top-of-class locking, and you will get the strongest locking strength. No glue or plastic inserts involved in the whole process.
Even when you make mistakes in laying in patterns, you don't need to shift out horizontally. Just by simply angling up one panel, you can disassemble the flooring without damage, which is a much more instinctive way of disassembling.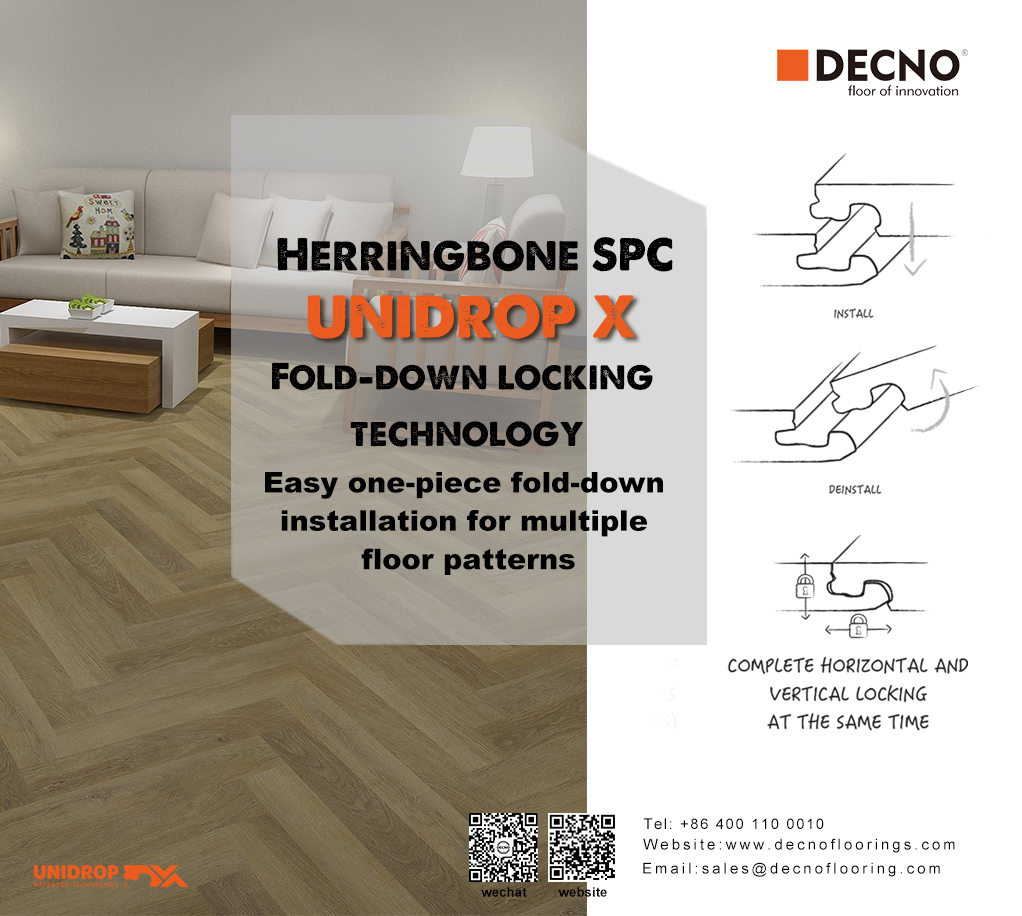 Strongest Locking Strength & Tight Seams
Apart from the easy and effective installation process we have talked about, its remarkable horizontal and vertical locking strength also makes it the strongest one-piece fold-down technology for multiple flooring patterns on the market today, and an effective way to avoid defects or customer dissatisfaction. According to the test, it shows huge resistance to being unlocked in a vertical way, which means if there is a big impact hitting the next to the joint, Unidrop X shows great resistance before breaking or disengaging.
And because of its unique mechanism and structure, it has multiple locking points which will ensure a stronger locking strength in terms of horizontal locking strength. And it can stay intact in daily wear and tear.
Less Height Difference
Unlike other click systems using the upper lip to bend, Unidrop X will ensure the flexibility in the bottom lip, which can prevent height differences and peaking, and achieve the ultimate beauty and artistry of herringbone SPC flooring.
First Move to Better Waterproof
Because you don't have to shift the planks out of each other, you can put extra pretension on the short side while aligning the planks, which will results in better waterproof performance compared to others.
Don't let the installation issue get in the way, DECNO herringbone SPC flooring with Unidrop X click system will help you to achieve better effects and performance. Happy customer, fewer complaints, and more business.