Hardwood SPC Flooring | New Growth Opportunity Through Innovation.
Today's population spends an estimated 90% of their time indoors. It is very important to choose a flooring that is good for human health.
Many people should know what is engineered wood flooring. It was once loved by customers for its natural and beautiful wood finish, which is easy to clean and install. But a lot of glue is used in the production of engineered wood flooring. Harmful gases such as VOC will continue to be emitted during use. And it is not waterproof. It is easy to buy products of substandard quality and harmful to the health.
Since 2016, stone plastic composite (SPC) flooring has entered the flooring market, rapidly replacing traditional floor decoration materials with its health protection, 100% waterproof,higher impact resistance and lower price, becoming the fastest growing floor decoration material in the past few years. With the mature manufacturing experience of SPC flooring, DECNO developed a healthier high-end flooring with a luxurious hardwood finish - Hardwood SPC Flooring.
Hardwood SPC flooring (A.k.a. Wood veneer SPC flooring /WSPC/ VSPC Flooring) is a comprehensive update to SPC flooring. It is also equipped with a click system for quick and easy installation. It is mainly composed of super UV coating, wood veneer and reinforced mineral core. It retains the durable performance of SPC flooring but also brings the beauty of the natural wood grain. In addition, Underlay such as IXPE, Cork, and Poplar are available as additional options to give a more comfortable feeling underfoot and noise reduction.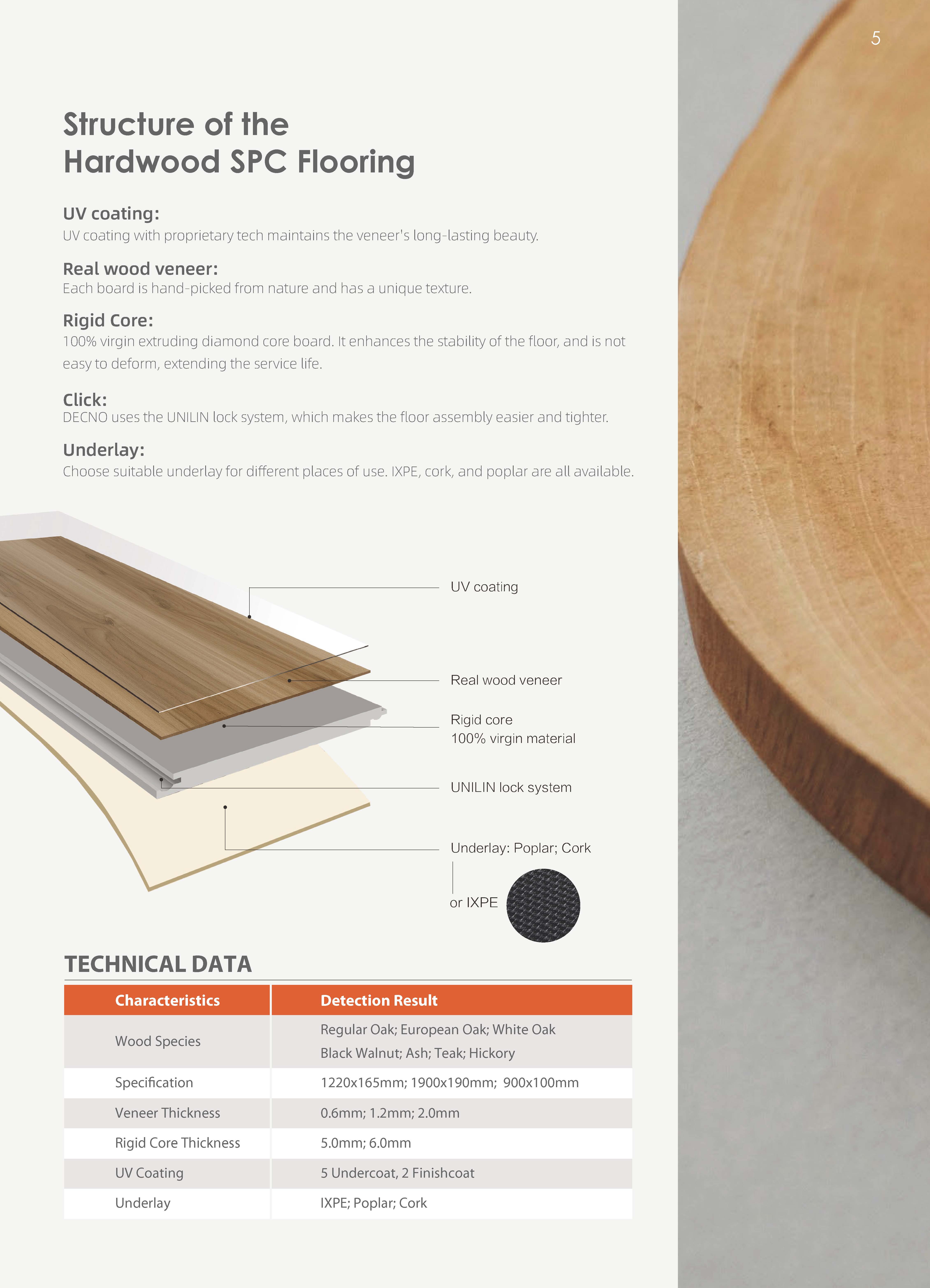 Advantages :
1. Luxurious natural look and feel
Unlike regular SPC flooring, hardwood SPC flooring features a durable hardwood finish while ensuring that each plank is unique and beautiful. Natural knots, clear grain on the veneer will be preserved or treated as desired. 7 kinds of high-quality wood species can be provided, of which regular oak, European oak, white oak and hickory are the most popular. It can be achieved smooth, brushed, hand scraped surface treatment. Hardwood SPC flooring is often referred to as a work of art that inherits the eternal beauty of nature.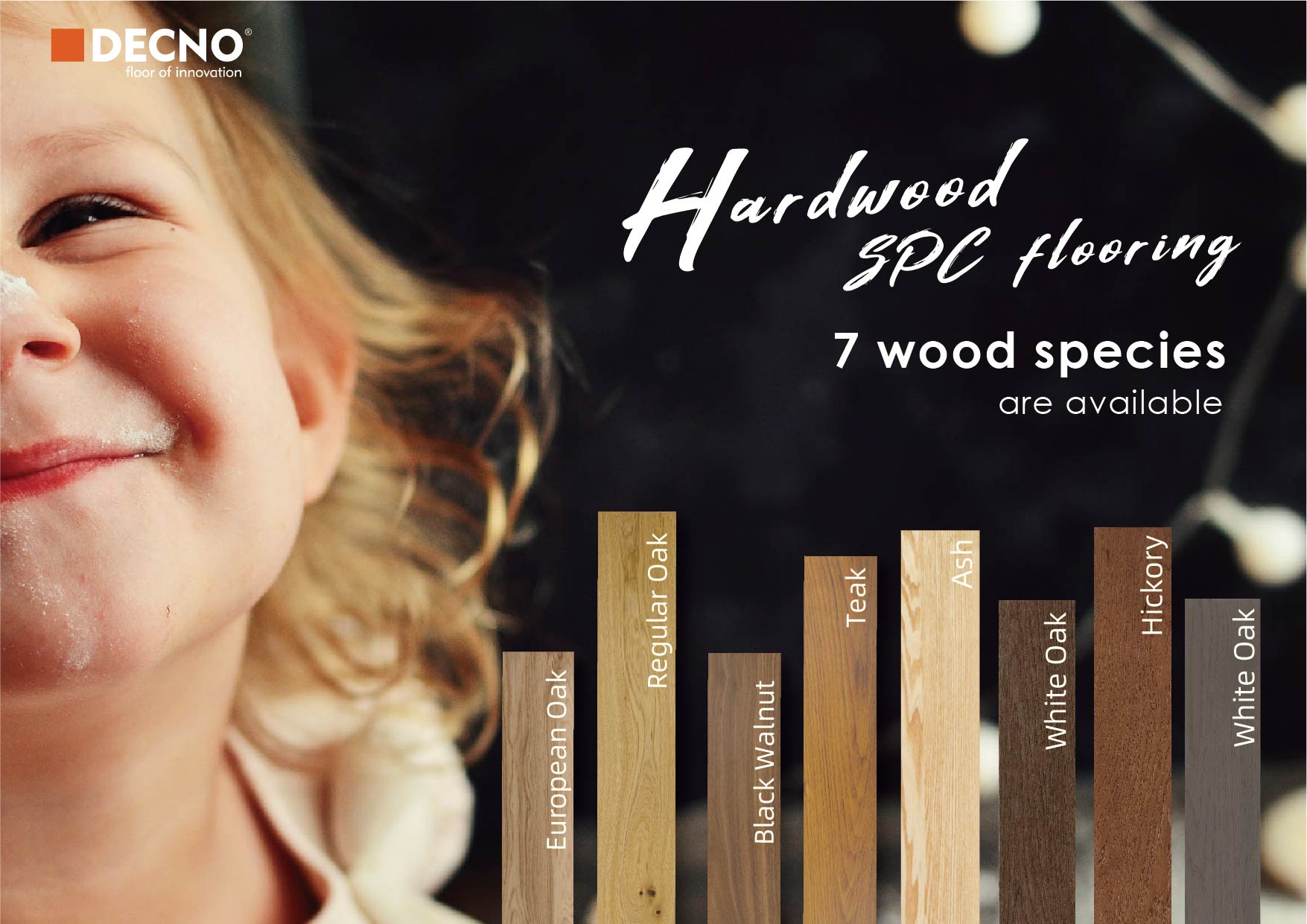 2. Healthy and Eco-Friendly
Calcium magnesium powder is used as the main component of the reinforced mineral core to support hardwood SPC flooring. It is rich in magnesium oxide, which can release magnesium ions, which is very beneficial to health. All raw materials are natural, non-toxic and free of heavy metals. It achieved level E0 formaldehyde emission testing and certification. This means that hardwood SPC flooring can be sold worldwide. Indeed created a healthy living for all.
3. Water Proof & Moisture-proof
The reinforced mineral core absorbs almost no moisture from the ground. The super UV coating tightly wraps the wood veneer. The dense click system firmly locks the gap between the boards. The application of these proven technologies from DECNO makes hardwood SPC flooring completely waterproof and moisture-proof. Hardwood SPC flooring can realize "whole-home flooring" and can appear in any corner of your home.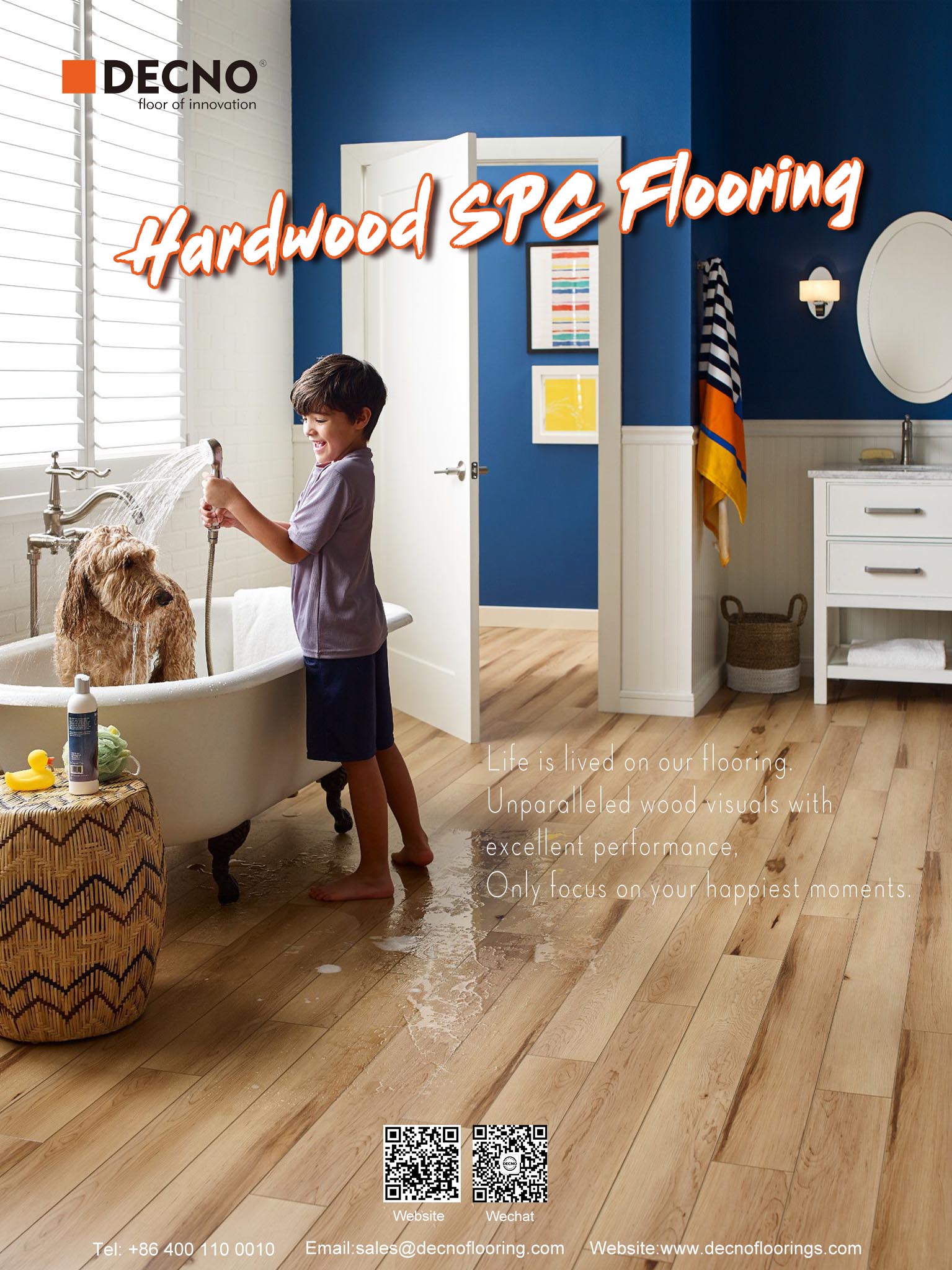 4. Durable
DECNO uses Super UV Coating Technology (6 Undercoats and 3 Finishcoats). This gives the best protection to the flooring surface. After the destructive Taber type abrasion test of hardwood SPC flooring, its top veneer can withstand the test of more than 3600 circles. For families with pets, this is worth a try.
5. Quick and Easy installation
Just click - install directly on flat ground in a simple way. Friendly to DIY lovers. And it is 40% faster than the glued - down solution. And it also saves a lot of installation costs.
6. Comfort Underfoot
Wood is known to be warmer and softer than ceramic tile. And you can add underlay to the hardwood SPC flooring to reduce the impact of noise and provide softer support for your feet. It is friendly to children and the elderly.
7. Termites Proof
Are you still plagued by termite infestation? Hardwood SPC flooring mineral core is hard enough. And the veneer is Super UV Coating - protected. This makes it completely resistant to termite attack.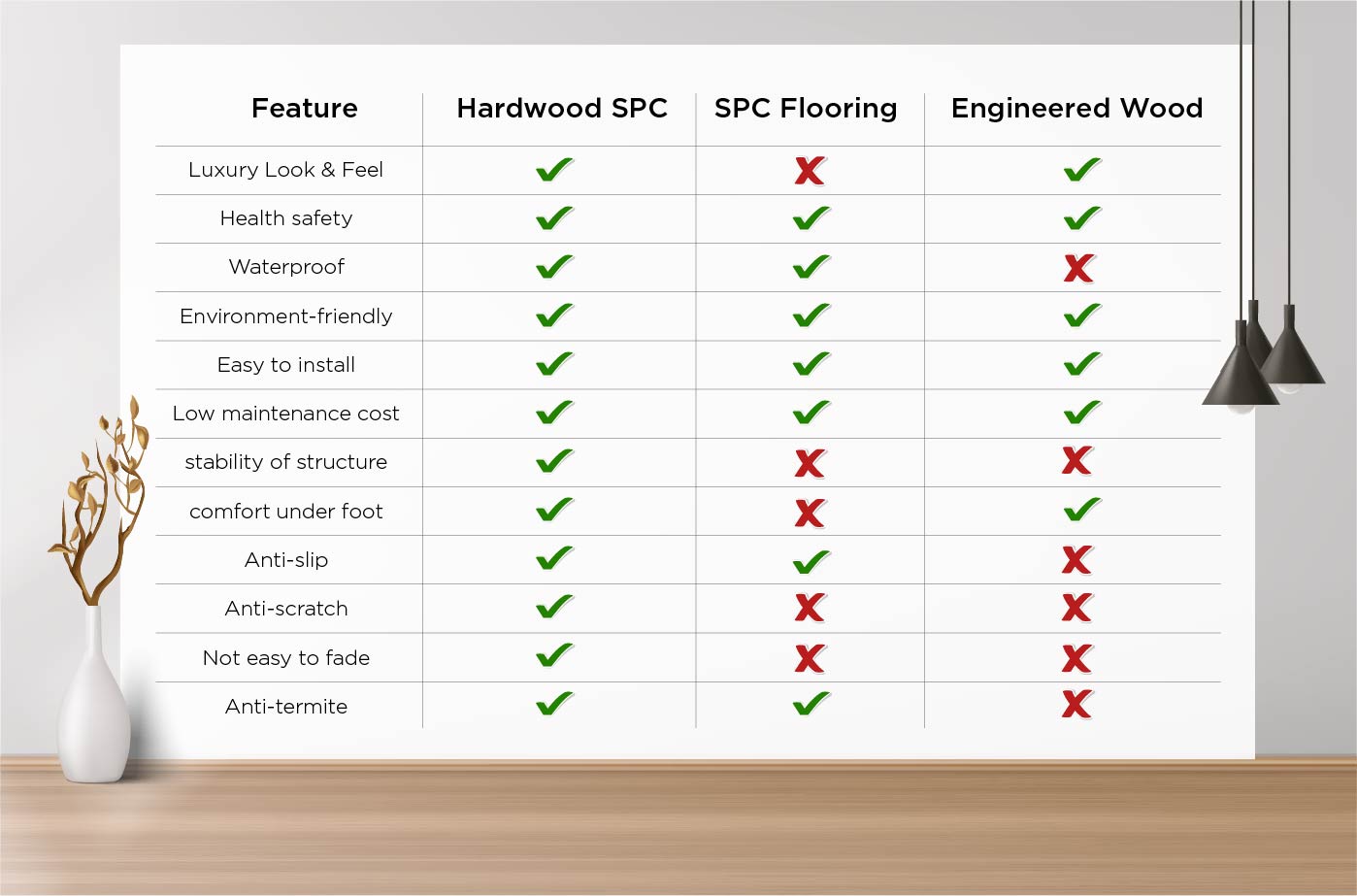 Hardwood SPC flooring has an elegant natural wood grain look and feel. Its reinforced mineral core further enhances the performance and functionality of the rigid core of regular SPC flooring, bringing additional temperature stability, durability, and toughness. It continuously releases healthy magnesium ions.
Hardwood SPC flooring has broad market prospects and will become the "Most Powerful Weapon" for the flooring brands and distributors to capture market share.