Although there are challenges and difficulties, nothing can stop the global trade from back to normalcy. As the oldest, largest and the most representative trade fair in Asia, Canton Fair is a place where people can source the best products from all over the world. And as a vital step to promote trade in the face of COVID-19, the 130th Canton Fair integrated online showcases with offline in-person experiences for the first time.
And it is really a blessing that DECNO once again participated in this grand event. Just as the slogan says, "Canton Fair, Global Share". During the past 5-day event, 600,000 physical visits, more than 350,000 online viewers, 300 million hits, we DECNO have made full preparation to welcome our customers and share our new flooring with them both online and offline exhibition.
During the 5-day online and offline Canton Fair event, DECNO has been meeting lots of our friends, and also receiving many new partners' supports. No matter for the staff who went on-site, or made preparation for the live stream, we are all united to serve our customers through our own ways.
Offline Booth: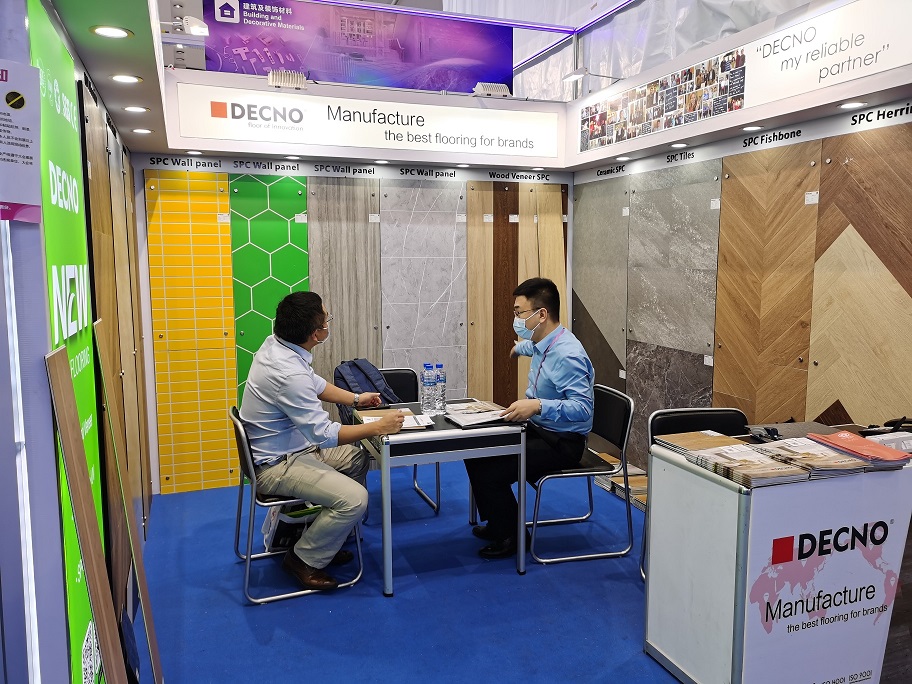 Manufacturing the best flooring for the brands is always our mission and we aim to provide the best-class flooring, secure your business supply chain and make our customers stand out from the market with the help of our strong production capacity and R&D capabilities.
We brought our innovative flooring such as Wood Veneer SPC flooring, SPC Wall Panel, Multiple UV SPC flooring, etc. to meet the new markets and customers' demands. And many customers were interested in our new products and came to us for more information.
Although facing difficulties in business travel, many customers planned in advance to make it possible to visit our booth. And we got favored by some prominent flooring brand owners from the USA, Saudi Arabia, France, Spain, Thailand, Korea, etc, who came to our booth and discussed the cooperation.
There were also Chinese representatives of overseas organizations and companies who paid visits to our booth and we also had in-depth communication about our partnership.
Online Event: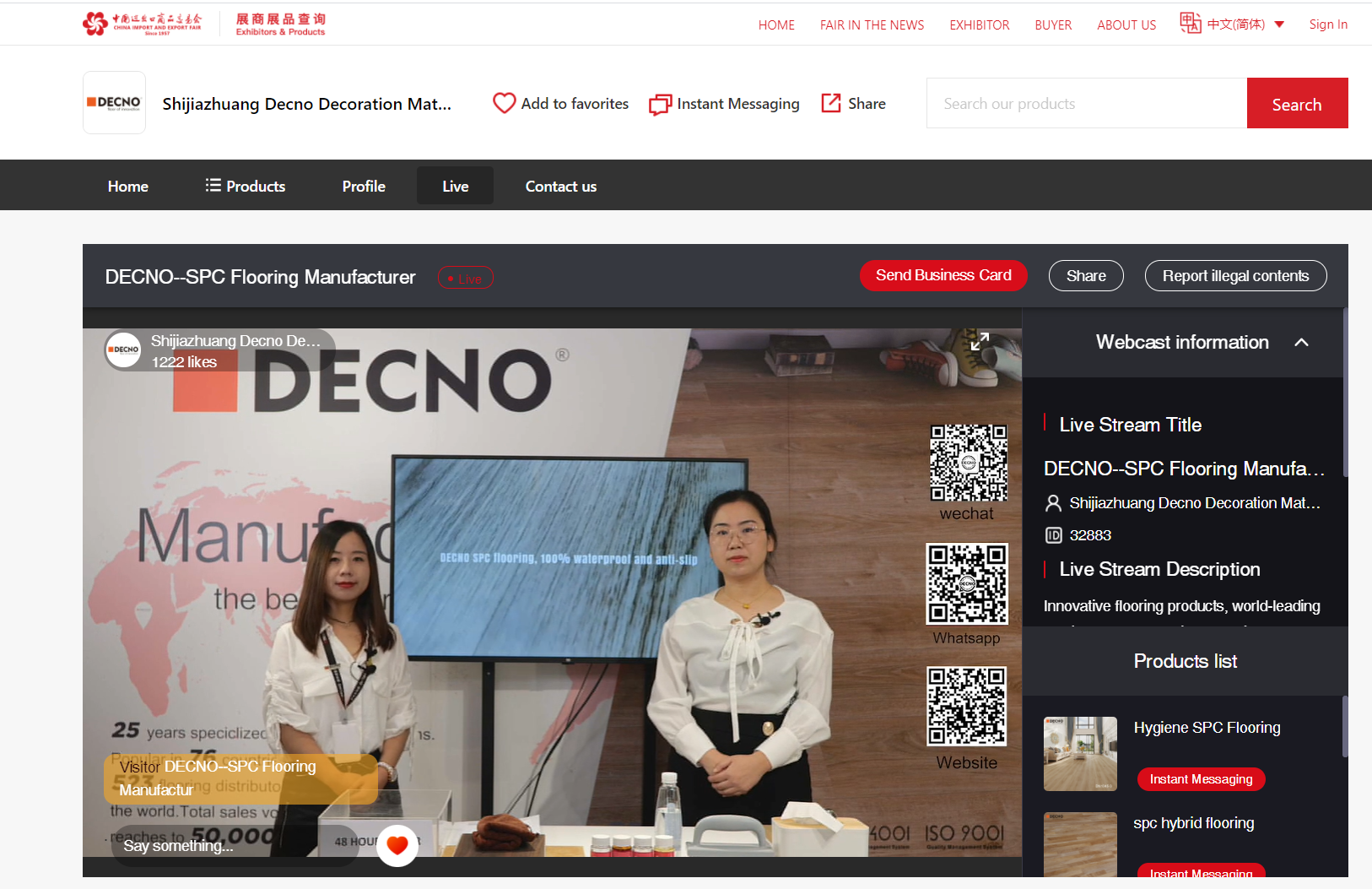 The live stream is really a good approach to connect customers with DECNO, during this 5-day online event, we have created 34 live streams, in total a 68-hour introduction about our company history and our deep root in the flooring industry, our massive production capacity and robust R&D capabilities, our mature production system, our world-class quality control measures, our holistic after-sale and value-added services, our testimonial system, and our innovative flooring products, etc. The results are very impressive, customers from the USA, UK, Russia, Italy, South Africa, Brazil, Mexico, Australia, Thailand, Malaysia, etc. sent us messages asking about our SPC flooring and wanted to establish a partnership with us. And they said they were all impressed by our company presentation and our superior SPC flooring.
We will keep the live stream as our normal activity, keep an eye on our social media, and stay tuned for our live next time.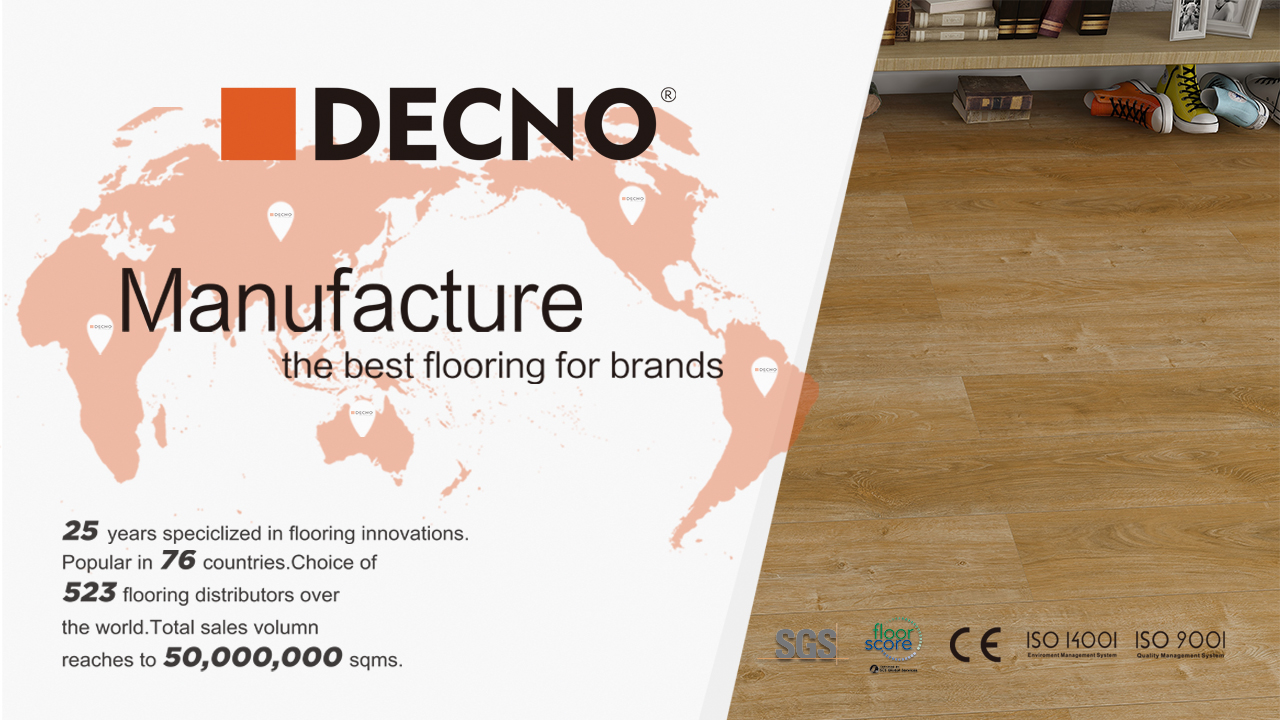 Thank our customers for all your trust, and we will continue to do our best and won't let you down.
Thank our professional staff for taking all efforts to fulfill DECNO's mission.
To our dearest friends and customers, look forward to establishing a long-term relationship with you and seeing you at the next event!