Through the unremitting efforts of all DECNO colleagues, the overall construction of the Malaysian factory has been initially completed, and trial production of SPC flooring products began in August. This factory's annual production capacity for mass production of SPC flooring is expected to be over 6,000,000 square meters. In order to ensure the smooth operation of the SPC production lines, DECNO has made a lot of preparations: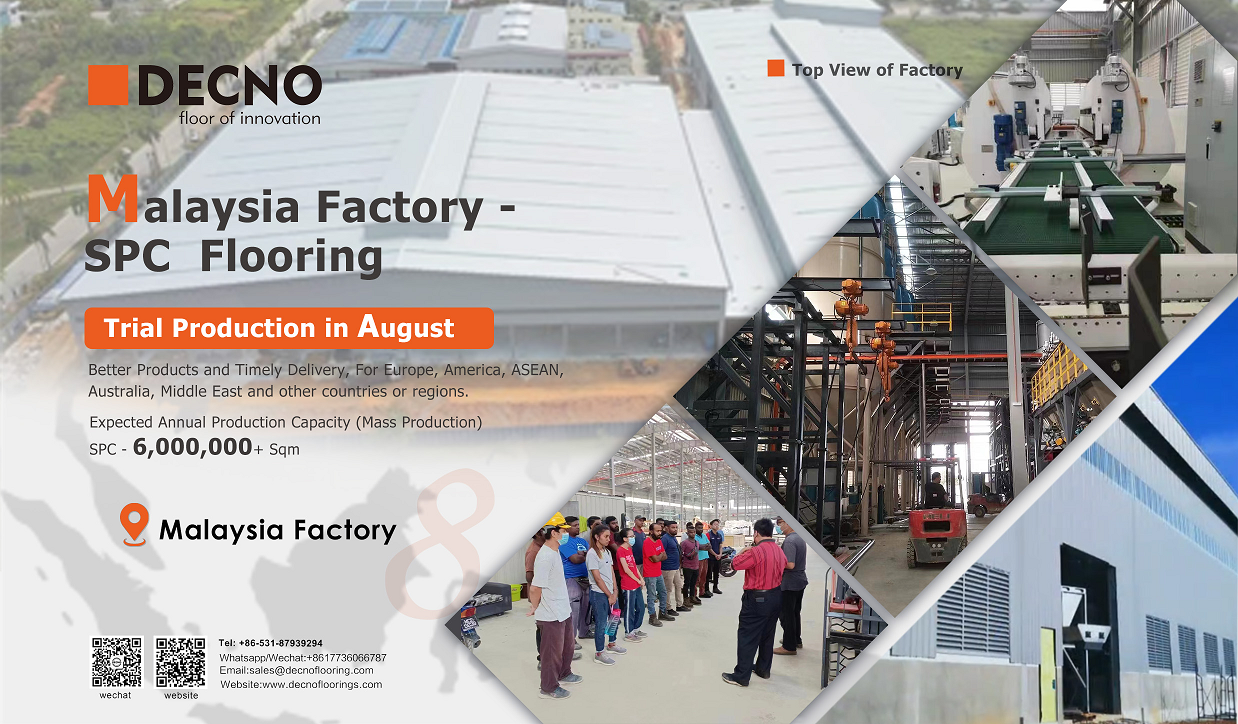 1.Relying on the advantages of local resources, DECNO strengthens cooperation with high-quality raw material suppliers. As the main raw materials of SPC floor, Ground calcium carbonate (GCC) and polyvinyl chloride (PVC) have an important influence on product quality and price. Malaysia is rich in premium heavy calcium carbonate and polyvinyl chloride, which can provide quality assurance and price advantages for the production of SPC products.
2.DECNO dispatched 5 senior managers and 15 core technical workers. To bring advanced factory management and production technology to the Malaysian factory. All personnel perform their own duties and are responsible for all key production links of SPC (raw material, extrusion, UV coating, Click profiling, etc.). In this way, the entire production process of SPC can be carried out smoothly as soon as possible, and the mass production stage can be accelerated.
3. DECNO recruits and selects excellent talents for various positions from Malaysia. And conduct professional skills training and assessment for all new employees for one month in advance, so as to ensure the normal operation and connection of each production link in the future.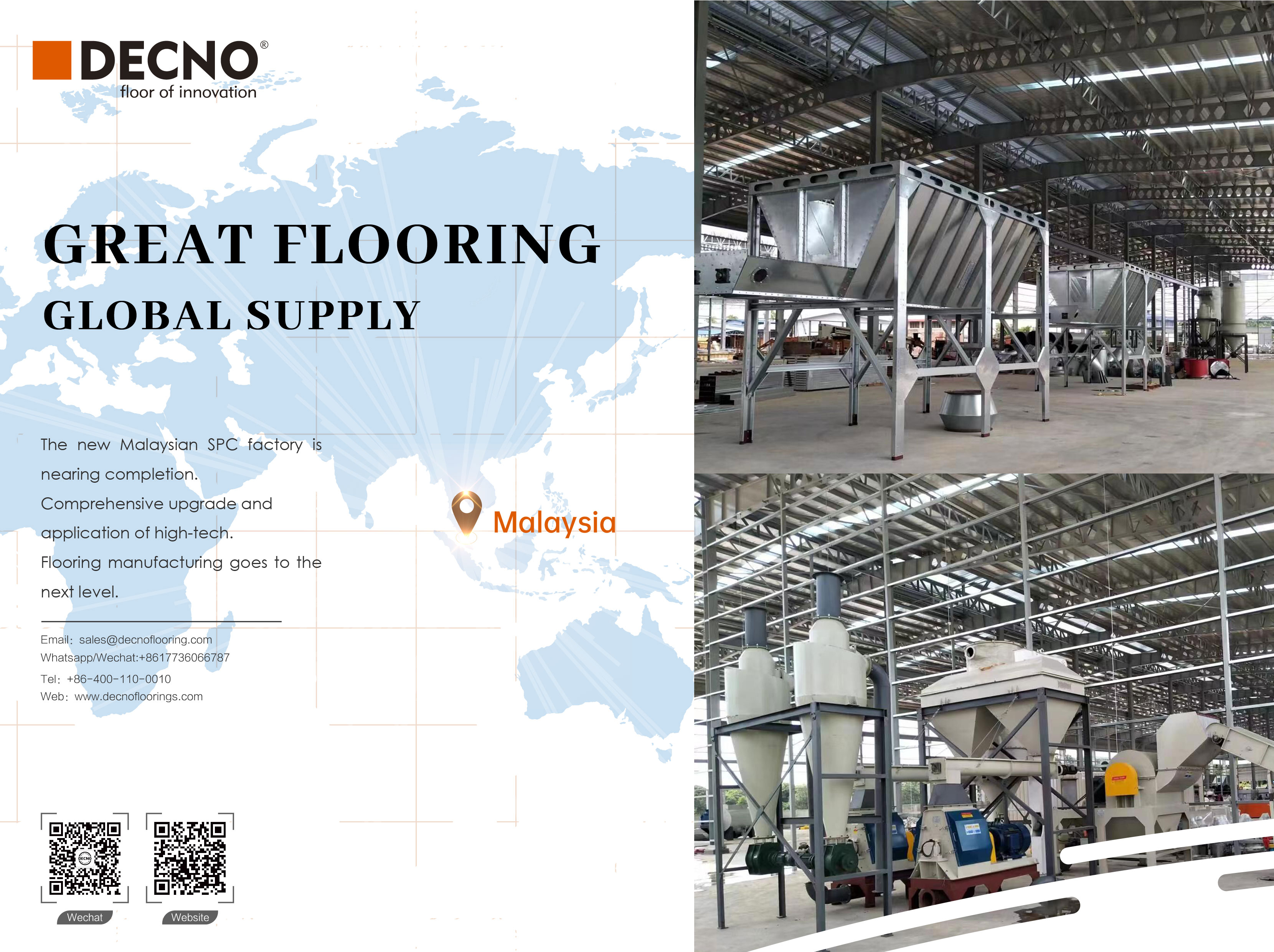 The August trial production at the Malaysian factory was a perfect start. The completion of this factory can provide suppliers with products and services faster and better in many ways.
Superior geographical location: DECNO Malaysia factory is located in Malacca, Malaysia. This area has convenient transportation and complete supporting facilities, and is adjacent to the main logistics ports in Malaysia -- Port Klang and Johor Port. Relying on convenient shipping, this will greatly shorten the shipping time to countries and regions in ASEAN, Europe, America, Australia, and the Middle East, while obtaining lower shipping costs.
Attractive product prices: reduced procurement costs of raw materials, reduced shipping costs, import and export tariff reductions... DECNO integrates the advantages of multiple parties and provides all our partners with a competitive price to take the initiative in market pricing.
Advanced technology and premium products: DENCO is a flooring manufacturer with 25 years of production technology and experience, and has won the trust of customers with high-quality products. Headquartered in China, DECNO provided the necessary technical and financial support for the trial production of the Malaysia factory.
Timely production and service: As one of DECNO's global production strategic projects, the Malaysia factory will not only build it into an industry-leading floor factory for high-quality production and rapid delivery, but also provide timely and excellent after-sales and marketing services to DECNO's global customers.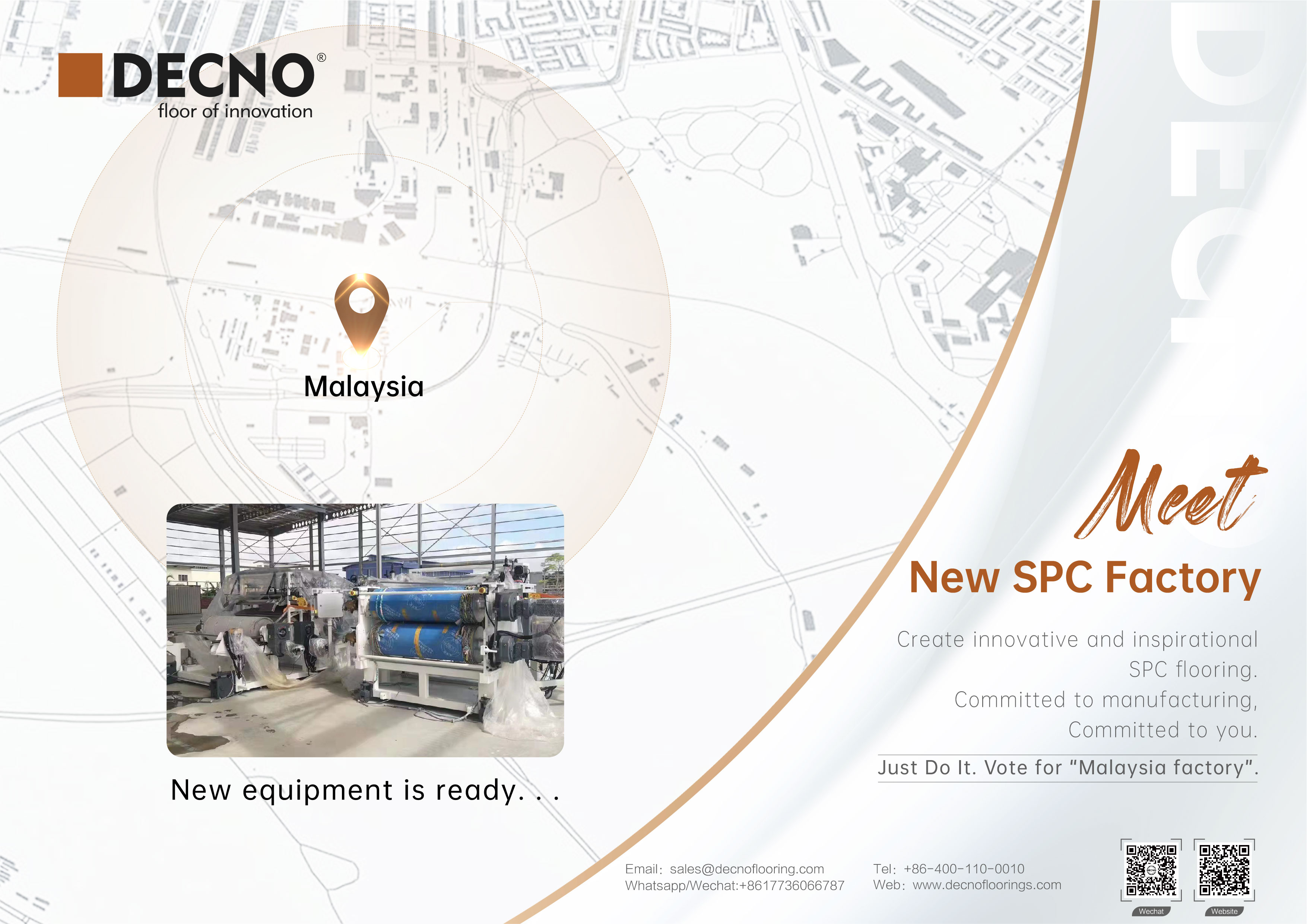 DECNO sincerely thanks all partners for their trust and support. After the mass production of SPC, the trial production and mass production of laminate flooring will be carried out. To learn more information, please feel free to contact DECNO.